Bermuda's World Rugby Classic organisers postponed today's [Nov.6] scheduled first round matches as they contend with wind-damage to their National Sports Centre facilities caused by the gale-force gusts battering the island.
The annual event was due to get underway this afternoon but a statement posted at their the website said: "High winds have caused considerable damage to the tents and infrastructure at the ground.
"As a result, today's games have been postponed.
"A revised schedule will be posted shortly."
Bernews visited the National Sports Centre on Frog Lane this morning and took these photographs of the damage to hospitality tents and other World Rugby Classic facilities.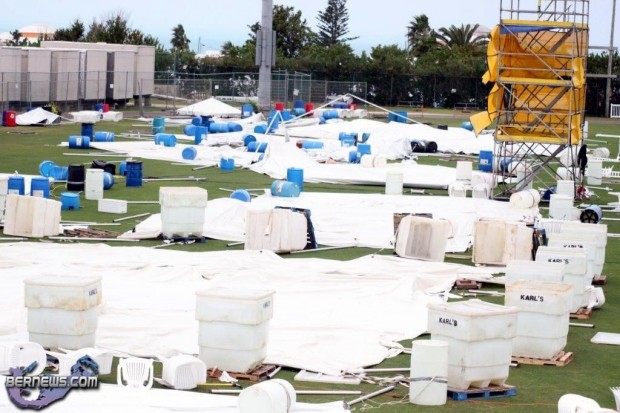 New Zealand had been scheduled to play the United States this afternoon to begin the first round of the 24th annual World Rugby Classic with the Classic Lions taking on Italy later in the day.
The Bermuda Weather Service issued a gale force warning for the weekend, predicting winds might not fully subside until Monday.
Gale force warnings are issued when winds of mean speed 34 to 47 knots are forecast to affect the marine area.
The BWS said: "Low pressure to our southwest will be quasi-stationary today, then begin to slowly drift westward.
"The associated warm front will remain near to our south producing strong to occasionally gale force winds, occasional rain and showers, and a risk of thunder through Tuesday.
"The low should distance itself enough to allow conditions to begin to ease for Wednesday."
Today is expected to remain overcast with occasional rain or showers. Northeasterly winds will remain strong throughout the day with gale-force gusts and occasional gusts to storm force.
There have been reports of isolated power outages caused by the strong winds.
Belco crews are understood to have been out restoring service.
Read More About