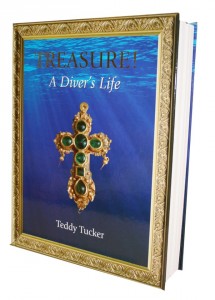 Diver Teddy Tucker is renowned around the world for his treasure-hunting adventures while Bermudians  have long considered him a national treasure.
As "Jaws" author Peter Benchley once said, Teddy Tucker's legendary undersea exploits helped bring Bermuda to the attention of the world — and helped to bring the world to Bermuda.
Now one of Bermuda's most colourful and accomplished heroes has published an account of his life and work in the appropriately titled "Treasure! A Diver's Life", an oversized and lavishly illustrated account of his seven decades exploring the seas both around Bermuda and around the globe.
A a celebration of his work and adventures as a marine archaeologist, oceanographer, nautical historian and artist, "Treasure! A Diver's Life" is an impressive testament to one of the world's true pioneers of underwater exploration.
Mr. Tucker and his colleagues created the field of study known today as underwater archaeology.
In more than 70 years at sea, Mr. Tucker has discovered over 250 shipwrecks, including over 120 buried in the reefs around Bermuda.
He also discovered the single most valuable piece of sunken Spanish treasure in the New World – a gold cross encrusted with emeralds, which has become known as the "Tucker Cross."
"I was out there one day digging and this big plank of the ship," he has said about that discovery. "I just lifted it up and slid it away, and here was a cross face down under it.
"And it was bright gold … I picked it up, turned it up, and emeralds," Mr. Tucker recalled.
Bermuda's Custodian Of Wrecks Dr. Philipe Rouja Introduces A Short Interview With Teddy Tucker
It was discovered the cross had been stolen just prior to the Queen visiting an exhibit of Mr. Tucker's treasure when she opened the Bermuda Maritime Museum in 1975. It has never been seen again — but the cross had already catapulted Mr. Tucker's name into newspapers and magazines around the world.
"It inspired me to work harder, stay longer and look more," he laughs, "but I never found anything like it since."
Mr. Tucker was the inspiration for his longtime friend Peter Benchley's 1976 bestseller "The Deep" and the subsequent blockbuster movie adaptation which was partly filmed in Bermuda.
Teddy Tucker's lifelong passion for scouring the sea for treasure started when he was a child, at the very beginning of underwater exploration, when the only equipment available was an air hose and a crude helmet.
This passion continued when he joined the Royal Navy at age 16 and has remained a dominant force throughout his life. He has worked with the world's most respected institutions, from the Smithsonian Institution and National Geographic to aquariums and television networks.
In 1994, Mr. Tucker was honoured by the Queen with the appointment to Member of the British Empire.
Now in his 80s, Mr. Tucker is still an active diver and he continues to inspire underwater explorers.
"Treasure! A Diver's Life" is in stock at the Bermuda Underwater Exploration Institute's Oceans Gift Shop.
At 416-pages and featuring 326 illustrations, the hard cover volume is priced at $59.95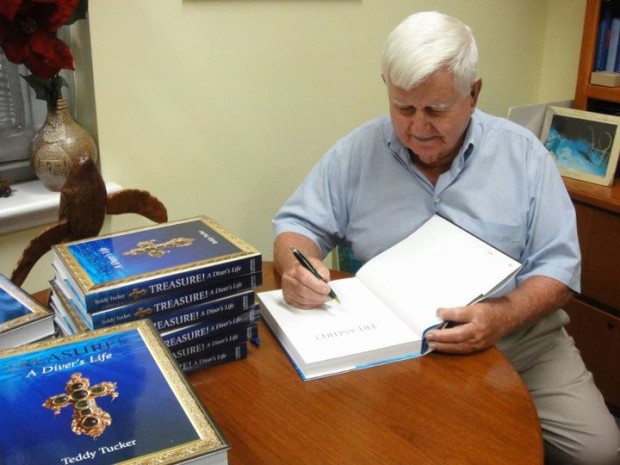 [Photo courtesy of BUEI]
Read More About
Category: All, Entertainment, News