A computer malfunction at the Bermuda tracking station on Cooper's Island just six minutes before blast-off almost scrubbed John Glenn's historic orbital flight around the earth on February 20, 1962.
But the problem was quickly rectified and after three years of training, John Glenn rocketed into space aboard the National Aeronautics & Space Administration [NASA] Mercury capsule Friendship 7 almost exactly on schedule at 9.47 a.m. Eastern Standard Time.
His Atlas booster, carried aloft on a column of flame, passed directly over Bermuda within minutes of the Florida launch.
He became the third American in space and the first to orbit earth. The historical flight was no easy feat.
At the end of his first orbit, a yaw attitude jet clogged, forcing the astronaut to abandon the automatic control system and use the manual electrical fly-by-wire system.
In 4 hours and 56 minutes, John Glenn circled the globe three times, reaching speeds of more than 17,000 miles per hour.
Fellow Mercury astronaut Virgil [Gus] Grissom served as John Glenn's capsule communicator in Bermuda throughout the flight.
Virgil (Gus) Grissom On A Bermuda Moped Prior To The Friendship 7 Launch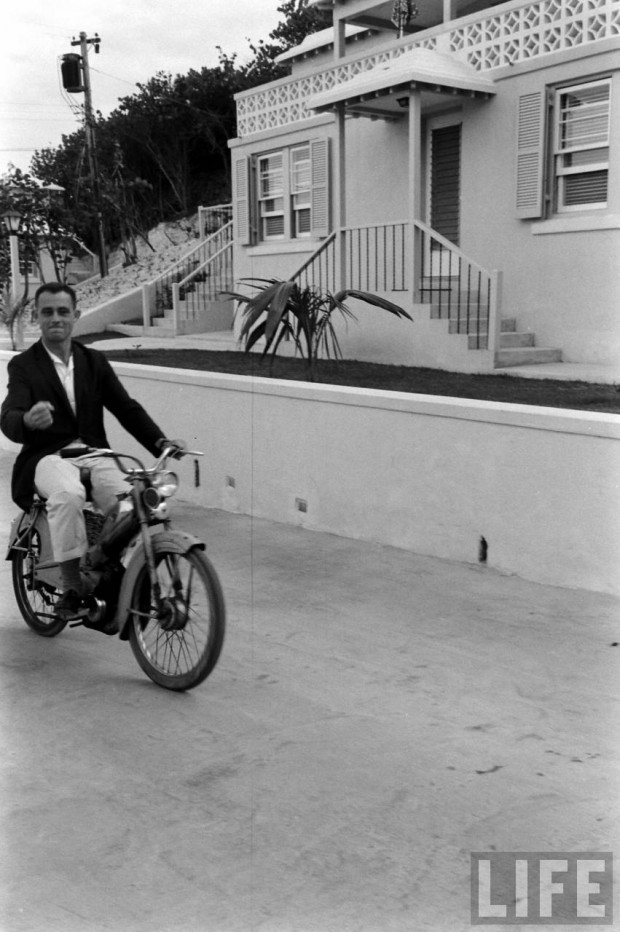 Astronauts had been assigned to various NASA tracking stations around the world because the space agency believed they were best able to understand the situation in the spacecraft and pass information in the clearest way.
Mr. Grissom helped to talk John Glenn down at the completion of his mission.
The recovery area south of Bermuda was nicknamed "Area Hotel" and during his flight Mr. Glenn reported, "This is Friendship 7, checking down in Area Hotel on the weather, and it looks good down that way. Looks like we'll have no problem on recovery" to which Mr. Grissom in Bermuda responded "Very good. We'll see you in Grand Turk,"
Problems with his capsule's heat shield led to what John Glenn himself called a nerve-wracking "fireball" reentry into the earth's atmosphere.
But the astronaut's mission concluded with a successful splashdown and recovery in the Atlantic Ocean, 800 miles southeast of Bermuda.
Mr. Glenn was taken to the Turks & Caicos Islands for a medical examination and debriefing.
News Report On John Glenn's Historic Orbital Mission
Read More About