During his tragically abbreviated thousand-day 1961-63 presidency John F. Kennedy's enthusiasm, determination and granite political will provided the momentum for a scientific and engineering crash programme unparalleled in human history.
It was one which succeeded in fulfilling his audacious goal of "landing a man on the Moon and returning him safely to the Earth" before the end of the 1960s..
Any number of preliminary steps were necessary before mankind made that giant leap in July, 1969.
And many of these incremental moves involved the stations in the National Aeronautics & Space Administration [NASA] global Manned Space Flight Network, including the Cooper's Island facility in Bermuda..
Established in 1961 at the dawn of the US manned space programme, the Cooper's Island tracking station played key roles in everything from John Glenn's pioneering orbital mission in a claustrophobic Mercury space capsule to the 1969-1972 three crewed Apollo lunar mission
US astronaut Edwin [Buzz] Aldrin descends from the Apollo 11 Lunar Excursion Module to the moon's surface on July 20, 1969. Photo courtesy of NASA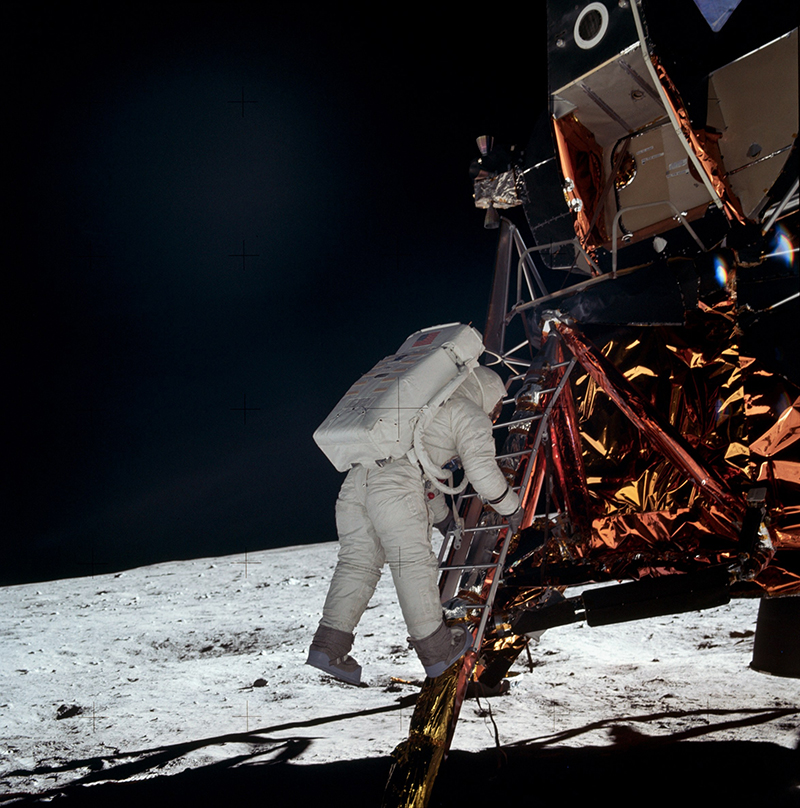 "Those were heady, exciting days when Bermuda supported the Mercury Programme, the two-person Gemini Programme and the ultimate test of the Lunar Landing itself on July 20, 1969," said retired Cooper's Island technician Frank Bowen.
Mr. Bowen reflected on being at Cooper's Island the night that Apollo 11 astronauts Neil Armstrong and Edwin [Buzz] Aldrin became the first two men to land on the moon,
"As the Apollo Lunar Excursion Module [LEM] separated from the Command Module and made its way to the lunar surface, I was at the Station Operations Console [SOC] in the control room of the NASA Bermuda Tracking Station where I had been for several hours, coordinating the activities of the engineers and technicians who helped to put the spacecraft in position to make this historic landing," he said.
"Bermuda was primarily a launch and near-earth orbit support facility, but we continued support with our 30-foot antenna, and continued to receive telemetry data, communications, and tracking information, right up to the Lunar orbital phase."
Now local residents are getting an opportunity to revisit those heady days of manned space exploration thanks to a new inter-active exhibit at the Bermuda Underwater Exploration Institute [BUEI].
The exhibit, 50 Years of Space, commemorates the historic milestone of the first moon landing.
A space shuttle launch photographed by Bermudian Scott Stallard, whose collection of NASA-related material is featured in the new BUEI exhibit commemorating the moon landing. [Photo Courtesy Of Scott Stallard]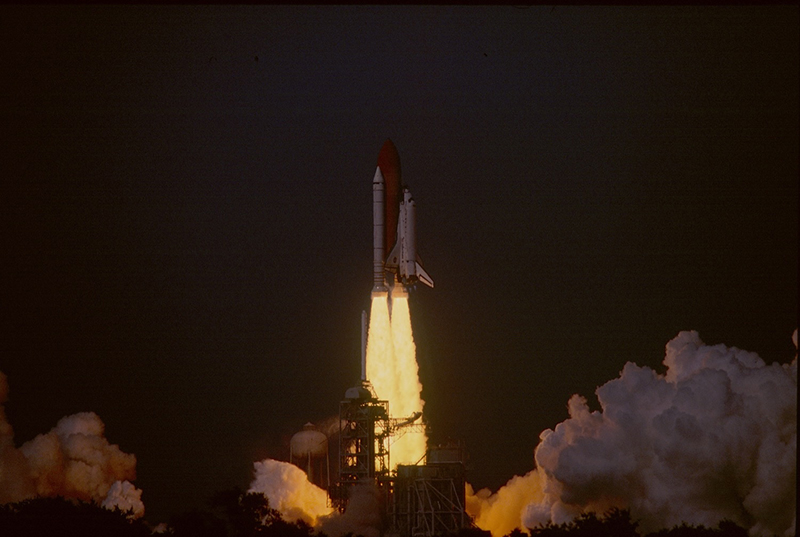 "It includes a unique exhibit of artefacts and historical memorabilia collected by Bermudian Scott Stallard, which he gathered over six decades of America's early space programme," said a BUEI spokesperson.
"Additionally, it will feature several evenings and afternoons of space-related movies from this historic period. A 12-minute 'behind-the-scenes' video created by Scott Stallard at a space shuttle launch will be shown to school groups as part of their free tours."
Marsh & McLennan Companies [MMC], which includes Bermuda-based operating entities Marsh and Guy Carpenter, is title sponsor of the exhibit, which opened on September 25 and runs until October 9.
"Marsh & McLennan is delighted to sponsor this informative exhibit and consider this as an invaluable opportunity for us to help BUEI educate people about the early days of space exploration," said Vittoria Canale, a member the company's corporate social responsibility committee.
"As an organisation that focuses our giving on youth, seniors and the environment, MMC is particularly excited this exhibit will provide free, open-access to local school children. We encourage the public to support this endeavour and learn more about the fascinating ties Bermuda has to this phenomenal global achievement."
Ms Canale pointed out that during the early days of space exploration many of the Mercury Programme astronauts in training came to Bermuda to dive with the Island's most famous ocean explorer Teddy Tucker.
Many of them continued to visit Mr. Tucker, one of the founding fathers of the BUEI, after their travels in space and became lifelong friends with his family.
For more information on scheduling a school tour contact eduassoc@buei.bm or call 294-0217. Free transportation is available upon request. For more information on BUEI visit www.buei.bm.
Read More About