After spending 10 days, 20 hours, nine minutes, and three seconds in space, the Apollo 7 space mission splashed down in the Atlantic 200 nautical miles off Bermuda at 7.11am on October 22, 1968.
The voyagers were picked up by helicopter and deposited on the deck of the USS Essex by 8:20am, and the spacecraft was aboard the ship at 9:03am.
The Apollo 7 space vehicle — crewed by Donn Eisele and Walt Cunningham and commanded by Wally Schirra — launched from Cape Kennedy, Florida on October 11, 1968.
The mission lasted 163 orbits with the crew being the first to beam live telecasts from orbit, and giving millions of people worldwide their first view of space.
An Apollo 7 crew member is hoisted up to a helicopter 200 miles off Bermuda in 1968: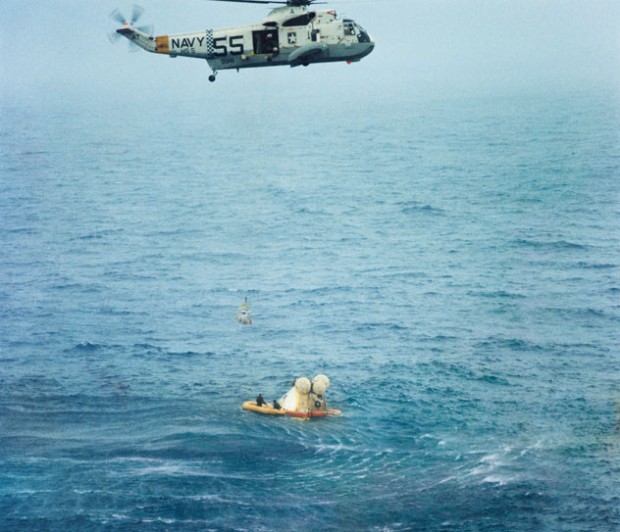 The vehicle experienced a normal deorbit, entry and landing sequence, coming down in the Atlantic Ocean southeast of Bermuda.
Apollo's flotation bags had their first tryout when the spacecraft splashed down in the Atlantic southeast of Bermuda, less than 2 kilometers from the planned impact point.
Apollo 7′s success was largely credited with getting the Apollo program moving again after a fire inside Apollo 1 that took the lives of astronauts Gus Grissom, Ed White, and Roger Chaffee in 1967.
The astronauts of Apollo 7 were the only astronauts not to receive NASA's Distinguished Service Medal after their mission. In 2008, NASA corrected this by presenting the medal to Walt Cunningham and posthumously to Schirra and Eisele.
Animation of the Apollo 7 mission from NASA:
When the space programme was in its infancy in the early 1960s, NASA used chimps to test how space flight would affect the human body.
One such chimp — named Enos — also splashed down off Bermuda in 1961 after orbiting the earth twice. He was brought to the island where tests were performed on him to see what impact space travel had on him.
Enos and his spacecraft were hauled aboard the recovery ship USS Stormes, and the ship dropped the chimpanzee astronaut at the Kindley Air Force Base hospital in Bermuda.
- Photos and videos via NASA
Read More About
Category: All, History, technology, Videos