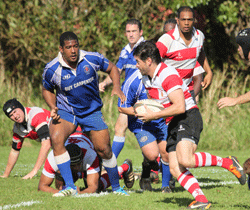 Bermuda Rugby Football Union League action continued at the Warwick Academy School Field on Saturday [Feb.25].
In Ladies action the Renegades Ladies defeated the Mariners Ladies 4 – 2, the Renegades Ladies got two Try's from Nicole Jones and single Try's from Tasmin Outerbridge and Casey Jersey, while Mel Page and Caroline Aberhart scored a Try each for the Mariners Ladies.
The Teachers Ladies then defeated the Police Ladies 4 – 2. Katy Wright led the way with 3 Try's for the Teachers Ladies, while Sophie Laganière added the other.
In Men's Division action, the Mariners defeated the Renegades 17 – 14 to win the League Title for the first time in the Clubs History.
Mariners scored Try's through Dustin Archibald and Kris Furbert, while Andy Boyce kicked two Conversions and one Penalty, while the Renegades scored a Try through Bennet Gibson, with Ian Henderson scoring a Drop Kick and Phil Hall kicked two Penalties.
In the second match the Teachers came from behind to defeat the Police 41 – 5. Police took the lead early in the game when Paull Davis scored a Try after receiving a pass from Neville Zuill, however the Teachers came storming back and drew level minutes later and then went on to score repeatedly. Henry Paddison scored 3 Try's, while Thomas Greenslade, Chris Naylor and Shauntino Simons scored a Try each, Simons also kicked 1 Penalty and 4 Conversions.
Read More About