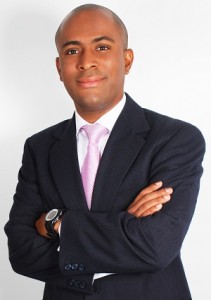 Bermudian Gino Smith has been appointed as XL Group's Latin America Regional Chief Underwriter, effective immediately. Mr. Smith will remain in São Paulo, Brazil where he has been based for the past two years.
Mr. Smith, who is fluent in English, Spanish, and Portuguese, has worked at XL for 12 years. During this time he has held progressively senior underwriting roles in all of XL's reinsurance offices in Latin America as well as in Bermuda.
Prior to this promotion, Mr. Smith was Vice President & Senior Treaty Underwriter for XL's reinsurance operations in Brazil.
In his new role, Mr. Smith, in close collaboration with XL Re Latin America Ltd. President and Chief Operating Officer Philippe Rochaix, will be responsible for coordinating and leading the design, implementation and execution of the underwriting strategy for all classes of business covered by XL's reinsurance operations in Latin America.
"He will also be responsible for the technical development of the underwriting staff, underwriting governance and ceded reinsurance for Latin America. Mr. Smith will report directly to Mr. Rochaix.
Commenting on the appointment, Mr. Rochaix said: "Given the significance of the Latin America region to XL, we believe that it is important to have someone fully dedicated to the role of Regional Chief Underwriter. Gino's technical expertise and knowledge of the Latin American market makes him the perfect person for this position.
"His appointment reflects the strength and diversity of talent within XL's reinsurance operations. I would also like to thank Hernan Moreno, who previously carried out this role while also serving as the General Manager for our Colombia office. The division of the two roles will enhance governance and allow Hernan to focus full time on managing our operations in Colombia as XL works to strengthen its position in the region."
Mr. Smith is a graduate of the Bermuda College, the Peter J. Tobin School of Risk Management at St. John's University, the Royal Military Academy Sandhurst, and the Program for Leadership Development at Harvard Business School. He was also the recipient of the Bermuda Insurance Institute's "2007 Young (Re)insurance Person of the Year" award and Review Magazine's "Future Industry Leader" award in 2008.
Read More About