Today [May 14] Minister of Business Development and Tourism Wayne Furbert leads the Bermuda Department of Tourism [BDOT] in kicking off its annual "Bermuda Day" partnership with the Boston Red Sox at Fenway Park.
The partnership highlights Bermuda through a series of cultural events, promotions and industry networking functions via numerous Boston Red Sox platforms, including digital ads, in-stadium signage, e-mail blasts, billboard mentions, and more.
Throughout tomorrow, tourism representatives will spearhead a marketing campaign targeted toward commuters surrounding the Park area. The campaign will feature Gombey dance performances, as well as BDOT ambassadors providing material to consumers with information on travel from Boston to Bermuda.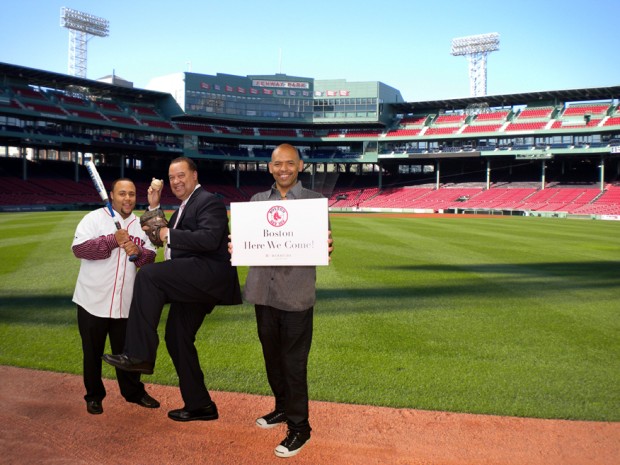 Following the day's events, Minister Furbert, along with local singers Tricray Astwood and Steve Easton will gather at Fenway Park to perform the US National Anthem prior to the Red Sox game. And keeping with the Bermudian theme of the evening, the first pitch of the game will be thrown by Shawn Caisey of the participating Gombey group.
Minister Furbert said, "All five cities we'll visit during the road show are essential markets for Bermuda, particularly in the upcoming summer months during the island's high season. We very much look forward to networking with travel agents and consumers, while elevating awareness of Bermuda's exquisite travel product, summer deals, and close proximity to each target market."
"Bermuda Day" will also include an exclusive media luncheon at the Boston College Club, and a travel agent dinner at Boston's award-winning Top of the Hub restaurant atop the famed Prudential Tower. Minister Furbert is also scheduled to talk up Bermuda this morning on WZLX FM's Karlson and McKenzie show – one of Boston's most listened to radio shows.
Following their stop in Boston, the BDOT representatives will attend similar events in Old Greenwich, CT, New York City, Philadelphia and Washington, DC from May 15-16.
Read More About