The Bermuda Bicycle Association held its road race championship this morning [June 24] in the east end, starting from Clearwater Beach in St. David's and using a course that went as far as Flatts in the initial lap and then continued with 11 mile circuits up to the roundabout by Swizzle Inn and back into St. David's.
In the Open Male race of 52 miles Dominique Mayho (Madison) bested the field in a final sprint that gave him the title ahead of Ian Port (Fast Forward Bicycle Works) and Mark Hatherley (Winners Edge). The Open Female race of 22 miles covered the shorter lap and Nicole Mitchell (Winners Edge) also won in a bunch sprint with a hard charging Krystin Robinson (Fast Forward Bicycle Works) in second and Zoenique Williams (Crime Stoppers) just behind in third.
Bermuda's top Junior Riders at the start line in today's race, photo by John Narraway: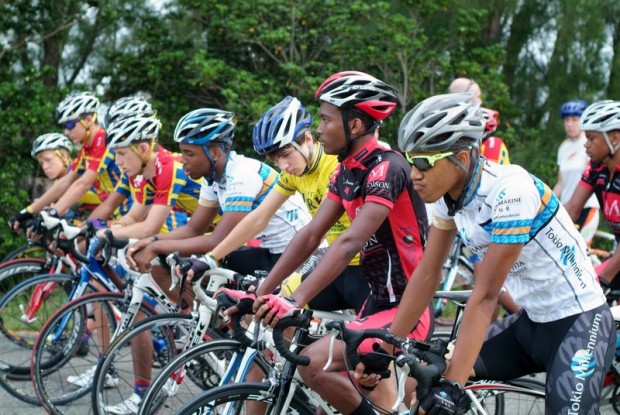 The Junior Female group raced the same distance and course as their slightly older colleagues and Gabriella Arnold (Winners Edge) won the category with Molly Pilgrim (Fast Forward Bicycle Works) just behind and Kamryn Minors (Tokio) crossing in third. Pilgrim crashed just over the finish line but did not sustain major injuries.
The Junior Male race was a tactical one where Mark Godfrey (Winners Edge) and Vashon Cann (Madison) broke away from the field half way through their 33 mile race and the two hung on to finish in that order. The chasing bunch finished with a sprint for third and Justin Ferreira (Winners Edge) bested the group to round out the podium.
The event was sponsored by R.M.S. Construction and organized by the BBA's executive committee. The BBA's next race is a time trial around Harrington Sound on July 8th.
Read More About