[Updated - Duffy was in 23rd place after the swim transition however was involved in a crash and suffered mechanical failure during the cycling and had to stop and fix her bike and dropped to 49th. The 23-year-old managed to get back going and regained four spots to finish 45th. She describes the experience as "heartache".]
Bermuda's Flora Duffy is competing in the Olympic Games this morning [Aug 4], and you can follow the action live on the Olympic website.
Ms Duffy is presently competing in the triathlon which consists of a 1,500m swim, followed by a 43km bike [seven laps of a 6.137km course], finishing with a 10km run [four laps of a 2.5km course]. She is now on the running portion and is sitting in 45th place.You can follow along live on the Olympic website here.
Update 7.21am: Flora Duffy finished in 2:08:54, placing 45th in a field of 55 world class athletes. She came out the water in 28th position in a time of 19:28, jumped to 23rd after a quick transition and came out of the biking portion in 43rd place.
This is an improvement from Duffy's first Olympic appearance in 2008, where she was unable to finish the race. A dominant figure in the sport at regional Caribbean events, she has multiple Caribbean medals to her credit, and was the only female triathlete from the region to make an Olympic appearance at these games.
Switzerland's Nicola Spirig finished in 1.59.48 winning the gold medal in a stunning photo finish just beating out Lisa Norden of Sweden who took home silver, while Erin Densham of Australia claimed bronze.
The AP reports that all three medalists collapsed at the finish, while the Telegraph reports that the slippery conditions were the cause of three crashes within the first two laps of the cycling.
Beijing Olympics bronze medallist Emma Moffatt of Australia was a part of the crash, and was unable to finish the race. Canadian Kathy Tremblay also crashed out and was unable to finish.
Update 8.20am: Duffy confirmed that she was a part of one of the crashes and suffered mechanical failure.
One crash and one mechanical and my Olympic dream ended in heartache. Thanks for all the support.

— Flora Duffy (@floraduffy) August 4, 2012
Update 10am: A photo of Flora Duffy finishing is here and one of her with Sports Minister Glenn Blakeney is here.
Update 11.30am: Thanks to Bermudian Craig Burt who is attending the Games, we have a camera-phone photo of Duffy racing. She is second from the left below.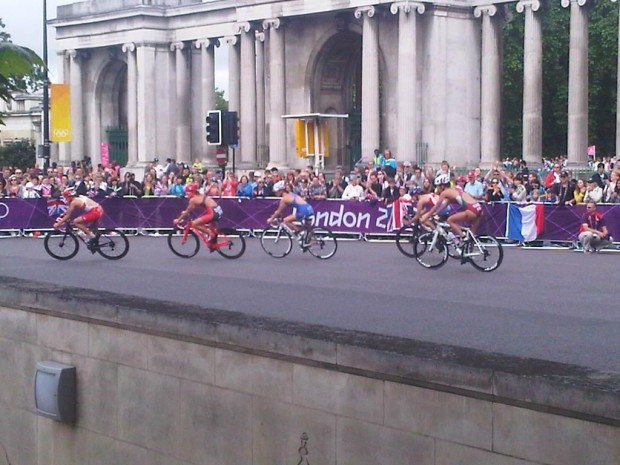 Update 12.10pm: Watching a replay of this morning's race shows that Duffy was in the chase pack, and was at one point leading the pack before suffering the crash and mechanical failure.
The crash was on a corner, and about three or four athletes went down including Duffy. One athlete slid across the entire road in what looked to be a very painful situation. The screencap below shows Duffy on the right beginning to slide out.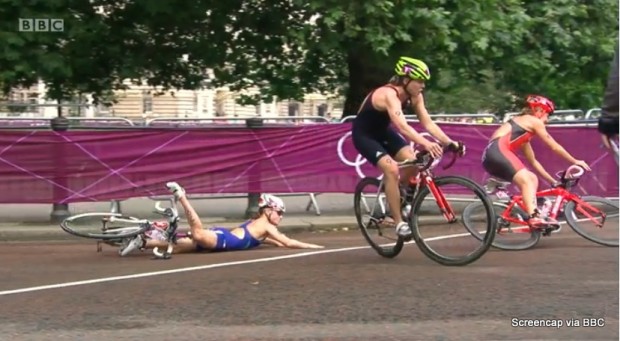 Update Aug 5: Thanks to Bermudian Andrew Dobson who attended the Games, another photo of Flora Duffy is below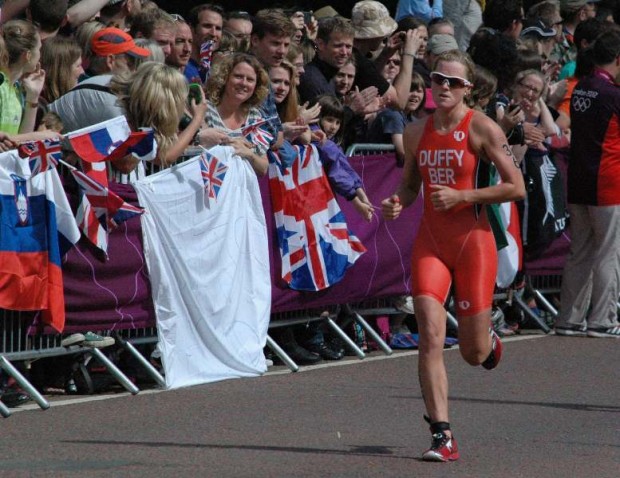 Read More About