[Updated] Bermuda's Jillian Terceira finished her first round in the show jumping portion of the Olympic Games and has qualified for the next round.
Ms Terceira and Bernadien Van Westuur recorded a clear round, but had a time penalty point leaving her tied for 32nd out of 75 competitors. There are 32 people tied for 1st as they finished the round without any penalties whatsoever.
There are a total of five rounds in the competition, with all five playing a part in the Individual event. All riders compete in the first qualifier, and the best 60 individual riders progress to the second round. Ms Terceira will compete again tomorrow.
Bermuda has had two athletes compete in the Olympics so far today, with triathlete Flora Duffy finishing 45th after being involved in a group crash. Long jumper Tyrone Smith will compete in the Men's Long Jump Final today, having qualified yesterday. View all our Olympic coverage here.
Update 11.34am: Speaking after this morning's round Ms Terceira she was very pleased with her result, and that Bernadien van Westuur "jumped absolutely brilliantly."
She said she is looking forward to tomorrow, where she hopes to qualify again for the next round. Tomorrow will see 45 of the 60 equestrians that went through today progress.
"I am very pleased with my team," said Ms Terceira. "A big thank you to all my friends & family, supporters & fans!"
Update 5.40pm: A photo of Ms Terceira competing today is below, courtesy of Hendik Frenzel.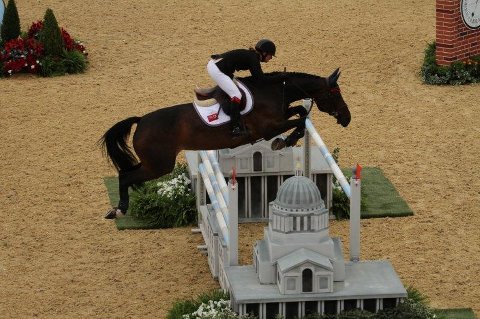 Update 6.03pm: You can watch a video of Ms Terceira competing today here on Facebook.
Read More About