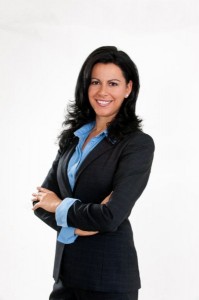 BCB Asset Management Limited announced a subadvisory relationship with Muzinich & Co., a global institutional investment manager specializing in corporate credit strategies dedicated to generating income and long-term capital appreciation with limited volatility.
Headquartered in New York, and with offices in London, Cologne and Paris, Muzinich has over $18 billion in assets under management and an over 20-year track record successfully managing a variety of credit strategies.
Head of BCB Asset Management, Lola Myshketa [pictured], commented on the relationship, "We are so excited to add Muzinich's high yield talent and capabilities to our platform of solid investment solutions for institutional and high net worth individuals in Bermuda.
"We have performed a thorough due diligence review to identify a long term, highly accomplished business partner and we believe Muzinich's strong record of risk-adjusted return is an ideal fit given the income needs and low risk tolerance of investors these days.
"The BCB Bond Fund, an actively managed diversified portfolio of investment grade global bonds, combined with the Muzinich US High Yield Funds, allows us to now offer a solid spectrum of investment solutions for clients looking for good returns in this extended period of low interest rates".
Horst Finkbeiner, Director & COO of Bermuda Commercial Bank, stated "BCB Asset Management is committed to bringing hand-picked, tailored solutions to our clients. Our open architecture platform allows us to help our clients choose investment options that uniquely suit them. Muzinich's core values are completely in line with our investment philosophy and we can say with confidence we have found a valuable business partner".
Yasmin Ibrahim, Director of Marketing and Client Services at Muzinich & Co., Inc. stated "We are delighted to be partnering with BCB Asset Management and to participate in its investment solutions platform. We fully share BCB's value commitment to provide investors with attractive, risk-adjusted returns."
Read More About