In 2011, Gross Domestic Product [GDP] — which measures the total value of goods and services produced in Bermuda — fell by 3.5%, according to a report released by the Department of Statistics.
The report said that at the end of 2011 there were 210 fewer jobs in the international business industry, 129 job losses in the wholesale and retail trade industry, and 493 fewer workers employed in the construction industry. That is a total of 832 jobs.
The report said: "Continued job losses and business closures adversely affected production, leading to the third consecutive year of negative growth.
"Ten of the fifteen industrial sections experienced lower economic activity, with the strongest impact felt in the construction, manufacturing and international business sectors. Overall, the decline in economic growth translated into a 4.1 per cent fall in GDP per capita which was measured at $85,996 per person in 2011."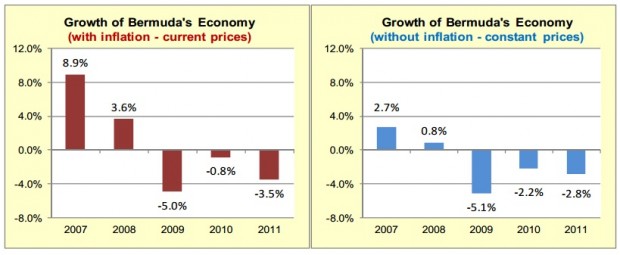 The report continues: "In 2011, the value added by the International Business sector declined for the fourth consecutive year, recording an 8.3% decrease in economic activity. Gross value added fell by $122 million in 2011 on the heels of a $15 million drop the year before."
"At the end of the year, 253 fewer international companies were registered in Bermuda with 210 fewer jobs available in the industry. Despite these job cuts, the international business industry still remained the largest private sector employer."
In 2011 the value added for the hotel and restaurant industries fell 2.2%, restaurants decreased 8.7%, businesses engaged in road and sea transport fell 19.2%, wholesale activity fell 7.7%, the sale of building materials fell 10.8%, construction activity fell 23.2% and income from rental of buildings and commissions for private sector realtors fell by nearly 30%.
Businesses involved in financial intermediation [commercial banks and insurance companies] experienced growth of 5%, while the agriculture industry recorded a 1.9% growth, which the report said was "due mostly to an increase in fishing activity."
The report said the "struggles of the wholesale and retail trade industry led to 129 job losses at the end of 2011," while the "drop in demand for construction services led to 493 fewer workers being employed in the construction industry in 2011."
The full report courtesy of the Department of Statistics is below [PDF here]:
Read More About