[Updated] The Sandys Showtime Drumline is set to make their debut in front of an estimated 100,000 strong crowd at the Circle City Classic Parade in Indianapolis, Indiana today [Oct 6], and you can watch them live courtesy of a video stream from WishTV.com.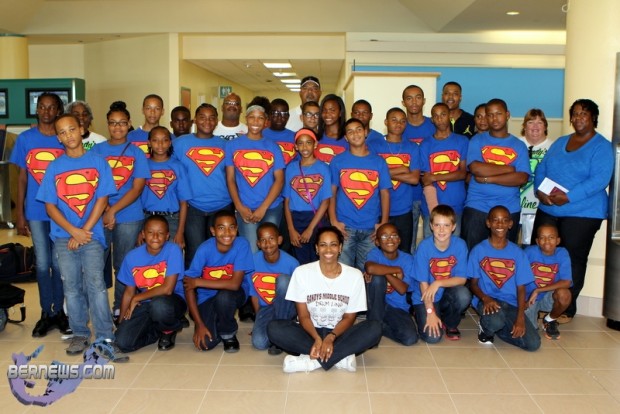 They recently left Bermuda to travel to Indiana, with the group [pictured above] consisting of 27 young people from Sandys Secondary Middle School, Berkeley and CedarBridge who range from 11 to 15 years old.
Tune in here on WishTV.com to watch the Circle City Classic Parade. As of this writing [11.42am] the Sandys Showtime Drumline has not yet appeared.
Update 12.53pm: The Sandys Showtime Drumline has just appeared in the live stream, receiving rave reviews from both commentators who called them "fantastic," and admired their dance moves saying the Bermuda group was "bringing the Caribbean flavour."
Many of the groups performing in the Parade are from colleges, and the commentators kept saying how amazed they were that the Bermuda performers included middle school students. The group also received praise for their sparkling white uniforms. A screenshot, courtesy of WishTV, is below.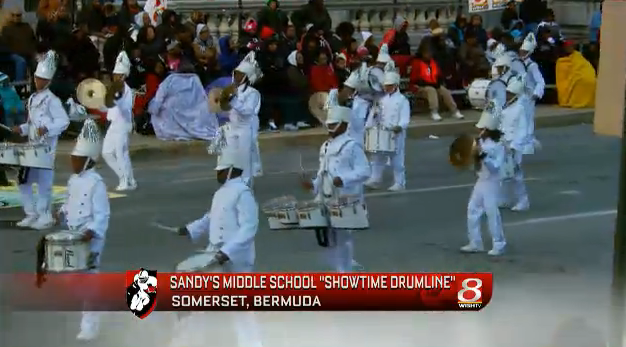 Read More About
Category: All, Entertainment, News