Bermuda features in a worst case tsunami scenario being studied by emergency management specialists in Maine.
That state's Cumberland County last week accepted a $39,000 federal grant to help pay for educational materials associated with a tsunami threat reports the "Portland Press Herald@ today [Dec. 17].
"In the hierarchy of threats to Cumberland County, it's not very high, but it exists," said James Budway, the county's emergency management director. "I don't think it would be catastrophic in any shape or form."
But, he said, "In the end, whatever you predict, it may exceed what's predicted."
So, just in case, local, county and state officials have analysed the potential impact of a surge of water from a tsunami spawned by a major earthquake in the Puerto Rico trench, one which could potentially engulf Bermuda within two hours.
A tsunami is caused by a massive volume of ocean water being displaced suddenly, usually by a major earthquake, said Stephen Dickson, marine geologist with the Maine Geological Survey.
But Atlantic earthquakes differ from Pacific quakes like the massive temblor which caused a devastating tsunami in Japan last year [pictured below]. Instead of the Earth's plates crashing into each other, in the mid-Atlantic they are pulling away, being replaced by volcanic material.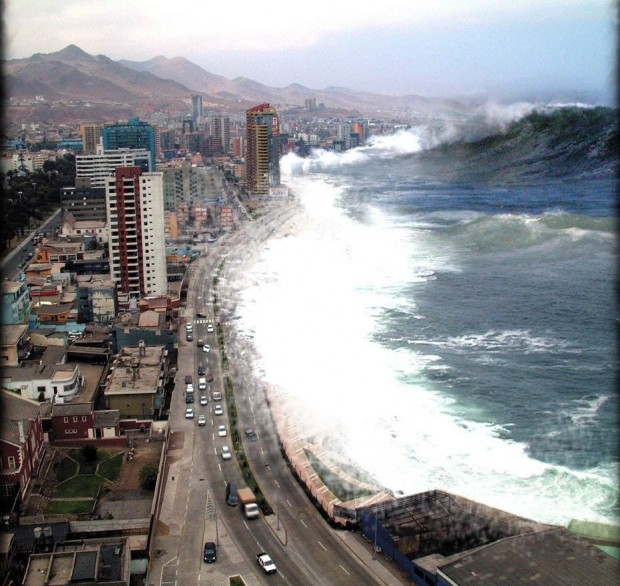 However, the North Atlantic plate is colliding with the Caribbean plate. Scientists say a magnitude 9.0 earthquake in the Puerto Rico Trench would be the equivalent of one megaton of TNT and could create a tsunami traveling north at 500 miles per hour. The force of such an earthquake would be 50 to 60 times more powerful than the explosive blast of the atomic bomb dropped on the Japanese city of Hiroshima in 1945.
"It would reach Bermuda in two hours and Maine in five or six hours," Mr. Dickson told the Maine newspaper. "We would maybe hear from Bermuda that it really exists," and from specialised buoys in the Atlantic.
Warning systems would likely give Maine emergency responders time to move people off beaches and other low-lying areas along the coast, said Mr. Budway.
Low-lying Bermuda would likely be devastated by such a massive tsunami despite its protective ring of coral reefs.
In March Bermuda participated in an Atlantic tsunami warning exercise in conjunction with other countries in the region. The exercise simulated an undersea earthquake and landslide off the coast of the US, resulting in tsunami waves being directed towards Bermuda and other territories in the northwest Atlantic.
Participants in the exercise included the Bermuda Weather Service (operated by BAS-Serco Ltd. on behalf of the Government of Bermuda Department of Airport Operations), Bermuda Maritime Operations Centre and the Bermuda Police Service.
The exercise not only afforded Bermuda agencies an opportunity to exercise their communications procedures, it also allowed for the general public to test their own readiness.
Read More About
Category: All, Environment