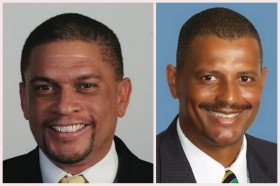 Both Kim Swan and Charles Swan have said that if they are re-elected in the upcoming election they will remain as Independents for the duration of that term of office.
The Swans were the last two remaining United Bermuda Party MPs, and announced last month they will be contesting the upcoming General Election as Independents, not under the UBP banner.
Charles Swan said: "Let me state for the record that, following this election as an Independent Candidate, I will remain an Independent Candidate throughout the duration of my term.
"In that capacity as an Independent, I would be willing to considera role of Speaker, Deputy Speaker, or in a Coalition depending on theoutcome or, as can be, in remain in Opposition. In all cases I am here toserve the people as I have done to date. Kim Swan and I both agree with these sentiments.
"Our record demonstrates that both Kim and I have held the PLP government accountable, all the while having respect for the voters of Bermuda irrespective of their political allegiance. In that regard, we both have pledged and have always represented all people. I will continue in that regard."
Kim Swan concurred saying "If elected I will remain an Independent MP for the duration of that term of office."
Kim Swan is running in C#2 St. George's West, where he will match up against Nandi Davis [OBA] and Renee Ming [PLP]. Charles Swan is running in C#31 Southampton West Central against Shawn Crockwell [OBA] and Scott Simmons [PLP].
Read More About