[Updated] The last two remaining United Bermuda Party MPs —  Kim Swan & Charles Swan –  will be contesting the upcoming General Election as Independents, not under the UBP banner.
Kim Swan is running in C#2 St. George's West, where he will match up against Nandi Davis [OBA] and John Gibbons [PLP]. Charles Swan is running in C#31 Southampton West Central against Shawn Crockwell [OBA] and Scott Simmons [PLP].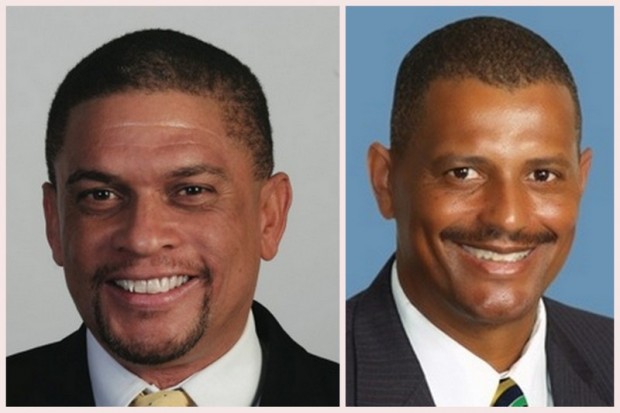 The UBP won eight back-to-back General Elections between 1968 and 1993, and this will be the first election in decades the party —  which has been disintegrating for the past few years – will not field a candidate.
In the beginning of 2008, the UBP held 14 seats in the House of Assembly, and by late 2009, they were down to nine seats – having lost five. Three MPs split to form the Bermuda Democratic Alliance, while two sat as Independents and later joined the PLP.
In May 2011, seven of the nine remaining UBP MPs quit the party to join with the BDA to form the One Bermuda Alliance, leaving Charles Swan and Kim Swan as the last two remaining UBP MPs.
Both Swans will join other Independents in the race who, at this stage, include David Tavares in C#8 Smiths South, Phil Perinchief in C#18 Pembroke West Central, Erwin Adderley in C#19 Pembroke West, and Tillman Darrell in C#21 Pembroke South East.
The last time an Independent won a seat was 23 years ago, when Stuart Hayward picked up the Pembroke West Central seat in the 1989 General Election. Since that time Independent candidates have contested every General Election [and some bye-elections] without success.
Kim Swan and Charles Swan have not officially announced their decision as of yet, but are expected to release a statement on the matter in the coming hours/days.
Update 10.11am: An official statement has been issued, it follows in full below.
This notice will serve to advise all persons in Bermuda that Charlie Swan JP in Southampton West Central constituency #31 and Kim Swan JP in St. George's West constituency #2 will both run as independent candidates in the upcoming General Election.

The announcement of the election brought to an end the Parliament elected in 2007 and has set the stage for an important general election on December 17th 2012.

The Swans were both steadfast in their commitment to the principles and ideals of the United Bermuda Party that they were elected under in 2007 and 2008 respectively and during that time have represented the issues of Bermuda admirably. Today they move forward respecting the contribution made by the United Bermuda Party but knowing Bermuda's problems transcend partisan politics.

Both incumbents are upbeat and looking forward confidently to Election Day on Monday December 17, 2012.

Charlie Swan stated, "Bermuda's issues today herald a call to be addressed in a non-partisan way. A way that respects as many views as possible with fairness and equity.

"My colleague and I respect and represent all people, of all political persuasions, of all races and creeds. We do this from a basis of principle. Our people will be voting for a better Bermuda …with foundations we can all build on".

Kim Swan stated: "We continue to respect the service of our forefathers – former MPs, Senators, Officers, Members, Staff and volunteers – the Bermuda that they built was one that we all are proud of and the world envied.

"We recognize that the UBP was not perfect and even apologized on the floor of the House of Assembly for any shortcomings of those before us or that we may have made during our tenure.

"Notwithstanding, we now move forward appreciating the United Bermuda Party and with a clear conscience knowing that we have served the people of Bermuda to the best of our ability and with integrity under the United Bermuda Party."

Kim Swan concluded, "The issues of Bermuda are serious and require measured leadership. We will continue to use our experience and commitment to provide the best public service for the people of Bermuda and our valued constituents.

A vote for Charlie Swan and Kim Swan is a vote for a better Bermuda, a Bermuda where Democracy, Fairness, Transparency, Honesty and Truth are the norm.
Read More About