A colourful — and spiritual — ceremonial procession to the Cathedral of the Most Holy Trinity this evening [May 29] marked the beginning of the consecration and ordination of Rev. Nicholas Dill as the new Bishop of Bermuda.
As the procession was underway, the worshippers who crowded the Anglican Cathedral along with the family and friends of Rev. Dill were treated to musical numbers.
Rev. Dill was led into the church by two young Anglican congregants from the St. Augustine's area, and crowds gathered to watch the proceedings.
During the colourful enthronement ceremony that followed he was installed on the bishop's throne and the dean's chair and was presented with the signs of his office — the mitre [or Bishop's hat], the Bishop's ring and staff and a cross.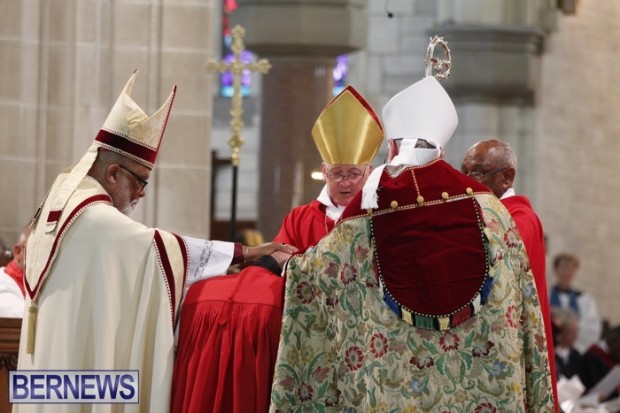 Rev. Dill, 49, was elected Bishop by Bermuda' Anglican community in February. Members of the church's administrative council, the Synod, cast three rounds of votes before choosing Rev. Dill over Archdeacon Andrew Doughty.
The new Bishop of Bermuda and his wife Fiona have six children. Born and raised in Bermuda, Bishop Dill trained and practiced as a barrister before receiving the call to full time Christian ministry.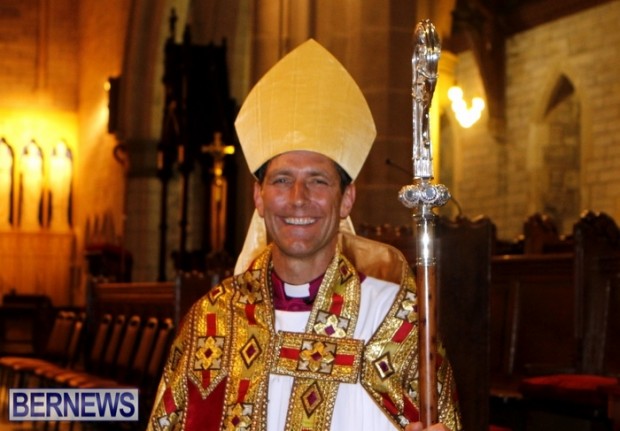 Bishop Dill has said he came to faith in 1986 from a position "of mild indifference and agnosticism" just as he was starting his law degree.
He subsequently attended a year-long preaching course but returned to Bermuda to practice law for four years.
He then undertook theological training at Oxford University's Wycliffe Hall and worked in the Church of All Saint's Linfield, West Sussex for seven years as curate and associate priest before being named as the Priest-in-Charge of the Anglican Parish of Pembroke in August, 2005.
Click to enlarge photos:
Read More About