[Updated with videos] Cheered on by thousands of Bermudians who lined the Somerset-to-Hamilton route, Tyler Butterfield and Rose-Anna Hoey raced to victory in this morning's Half Marathon Derby – both claiming their first ever May 24th titles.
Butterfield thanked all of the spectators after crossing the Bernard Park finish line, saying the enthusiastic Bermuda crowds made the 13-mile race feel like an "Olympic experience."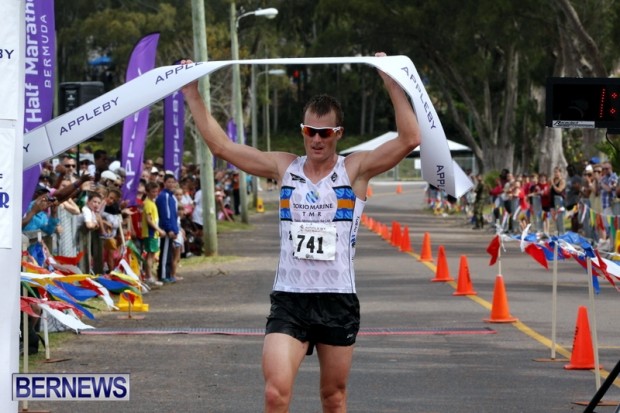 The two-time Bermuda Olympian is based in Colorado but travels the world competing in elite level triathlons. In recent months he has participated in events in Australia, Abu Dhabi, and California.
Speaking before the race, Butterfield said, "I'm really excited to run in May 24th this year! Last year I was so busy chasing qualifying points around the world for the Olympics it wasn't feasible.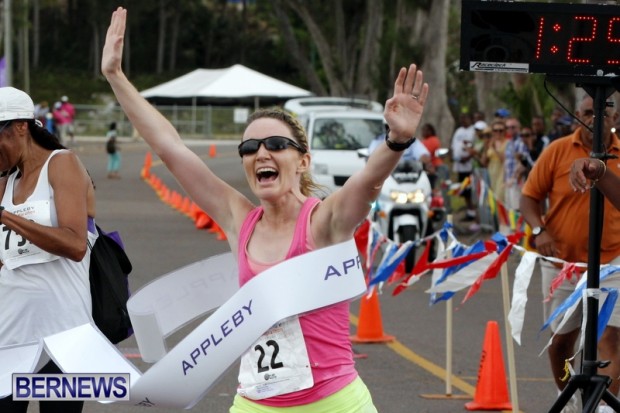 "Tokio Millennium Re has been supporting me for several years now through ups and downs, changing distances, changing goals — so I'm very grateful of that. It's a rare opportunity to be able to represent Tokio in a home race."
"Of course I'm looking forward to seeing my family and friends while we're there too and May 24th is a great day for Bermuda and it is nice to be a part of."
Butterfield slows down to greet spectators as crosses the finish line:
Stephen Allen came in second with Jay Donowa finishing in third place. Five-time defending Half Marathon Derby champion Chris Estwanik announced he would not be competing in this year's race because of an injury.
Rose-Anna Hoey was the winner in the female category with Ashley Estwanik in second. Hoey, showing great sportsmanship, said she owes so much to Mrs Estwanik, who has mentored her and helped her along the way.
Dominique Mayho earlier defended his title, winning his second consecutive Sinclair Packwood cycling race which follows the same route as the Half Marathon Derby.
Rose-Anna Hoey crossing the finish line:
We will update with additional results as able, and for all our coverage of the Bermuda Day holiday click here.
Read More About