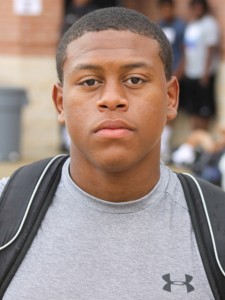 American football is a very difficult sport to break into given the physical demands and requirements that it exacts upon those who wish play the game at a high level, but one young Bermudian is proving that he's got what it takes before even setting foot on a varsity field.
Devwah Whaley, originally from the island but now living in Texas, is still too young to play varsity-level football at only 16, but that hasn't stopped the University of Houston from offering the teenager a scholarship after coaches saw him perform at the school's recent sports camp.
Coming with a long history of excellence in sports, particularly track and field, Whaley's physical abilities are second-to-none in his age group, making him an attractive potential piece of the puzzle when it comes to the success of the team that he'll play for this coming season, with Central High School of the 40th Division in Texas.
The freshman, even putting his unique scholarship aside, is an enigma, playing no particular position and posessing the athletic skills necessary to make him a force anywhere on the gridiron, in all situations, and this has Central head coach Toby Foreman very excited about the prospects of a successful season with the young Whaley on his roster.
"I've never had a freshman that looked like him. His potential, in my opinion, is unlimited," Foreman told BeumontEnterprise.com. "I've never had a kid get offered at that young of an age and I coached a first-round draft pick, two-time Pro Bowler."
With Whaley's skillset including incredible speed, stamina, and on-the-field intelligence, Foreman plans to test him in a multitude of positions and situations in order to help the young player to narrow down where his talents will best serve his team at large, giving him the opportunity to better prepare for the rigorous challenges that lay ahead for him at University once he completes high school.
Read More About