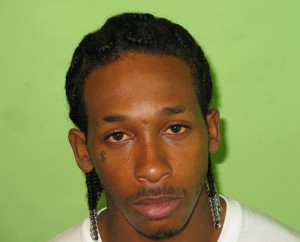 'Facebook Fugitive' Alvone Maybury reappeared in Court today [Oct 25], where he is on trial for allegedly stabbing another inmate inside Westgate in October 2012.
The trial is before Magistrate Khamisi Tokunbo with Crown Prosecutor Nicole Smith presenting the Crown's case.
Evidence tendered by three Correction Officers [CO] witnesses is that on 24th October 2012, the inmates from Housing Unit E1, which they refer to as 'Echo 1', were on outside recreation.
A Divisional Officer [DO] said that he responded to a 'duress' call from the recreation area and on arrival found that CO's had calmed that situation down. The DO said at the end of the scheduled recreation period, the group lined up and were moving, in opposite directions to each other, prior to returning to E.
The DO said that during this time he was behind Alvone Maybury, and Sean Evans was with the other group. The DO's evidence was that he saw Mr Maybury lean forward and then seconds later saw Mr Evans raise his right arm and heard Mr Evans say: "This is where it's gone."
The DO said that at this point he saw a metal object in Mr Evans' forearm, and photographs produced in evidence showed that the object did protrude several inches from Mr Evans' arm.
Shown a long thin metal shaft by the Crown Prosecutor, the DO said that he recognized it as the 'metal object' and that it was a metal bucket handle that had been flattened and sharpened at one end.
The DO said that this was the kind of thing called a 'shank'. The DO said that in prison language, anything that's been sharpened and that is intended to do bodily harm is called a 'shank'.
The DO's evidence was that immediately after, he ordered that this group of inmates should be locked down and fed, and that this must happen before any other groups were released for recreation.
The trial then adjourned for lunch, and continued again in the afternoon. A detective constable gave evidence that she collected evidence materials that included articles of clothing, a metal 'pick', and other items such as photos and CCTV footage.
Magistrate Tokunbo then adjourned the case to November 2013.
Read More About
Category: All, Court Reports, Crime, News