Dr. Kyjuan Brown and the aestheticians and medical staff of Northshore Medical & Aesthetics Centre hosted an Open House this Saturday [Oct 19] at the Northshore Medical & Aesthetics Centre on North Shore Road in Devonshire.
Visitors were treated to guided tours throughout the facility with staff explaining the different services and products available from the Medical centre. Receptionists were kept busy with enquiries and appointment bookings from interested future clients.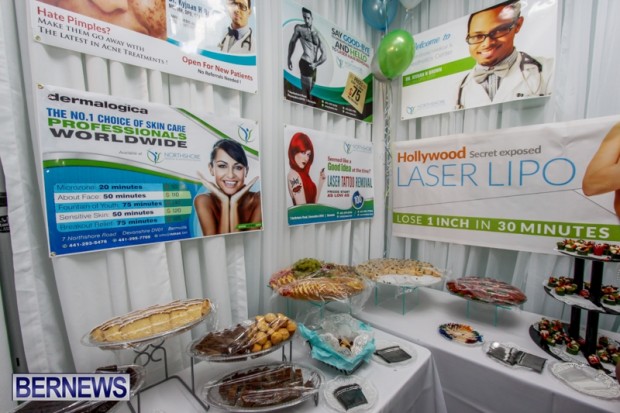 One area was set up with seating and a display where videos ran through explaining the ins and outs of the different procedures performed by the staff. Dr. Kyjuan Brown also took the time to do live demonstrations on clients of a few of those procedures, explaining the steps as he went along.
Numerous posters and flyers were displayed showing the various services available at the facility, offering more in depth information available to peruse. Food and refreshments were also available with different delicacies available including gluten free treats, fruit and vegetable snacks.
The facility offers a range of treatments including: Body Contouring by Laser Slimming, Ultrasound Slimming and Skin Tightening Treatments; Microdermabrasion; Chemical Peels, Laser Hair, Spot & Tattoo Removal; Acne Treatments; Dermafrac Treatments; Vein Treatments, Acne Scar, Skin Tag, Scars & and Keloid Removal, Dermalogica treatments and more.
Dr. Brown, who is a member of the first graduating class of CedarBridge Academy, received his Bachelors degree from Morris Brown College in Atlanta, Georgia; and his Doctorate in Medicine from St. George's University School of Medicine, in Grenada, West Indies. He also holds a host of additional qualifications in various medical genres. For more information on the Northshore Medical & Aesthetics Centre visit their website.
Click to enlarge photos:
Read More About
Category: All, Beauty/Fashion, News, Photos, Videos