Northshore Medical and Aesthetics Center [NMAC] will be celebrating "MedSpa Month" throughout September, with special discounts and offers being showcased every day of the month.
"With summer just behind us, fall is an ideal time to prepare our skin and body for the cooler months ahead, as well as get a jump start on that wanted body", said Dr. Kyjuan Brown.
"With this in mind we felt there was no better way to help anyone to get a jump start on some desired treatments than to educate and offer great discounts on a number of our treatments throughout the entire month."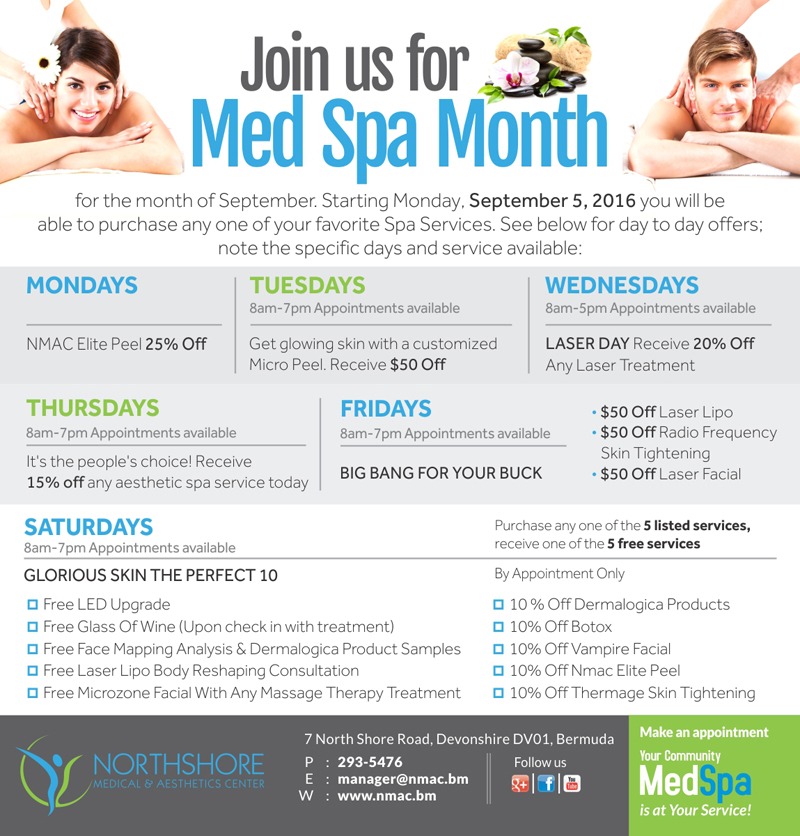 A spokesperson said, "MedSpa Month will be celebrated from September 5th – 31st a number of popular skin and body prep treatments.
"Laser Lipo [Thighs/ Abdomen], Microdermabrasions, Dermalogica Signature Facials, IPL Spot Treatments and Laser Acne Facials will all be reduced to in price per treatment for any appointment during this period.
"Throughout the month there will be other events and discounts being released so stay tuned to the Northshore Medical website.
"For more information on the treatments offered throughout MedSpa Month and what may be right for you contact Sasha Benson at sbenson@nmac.bm or call 293 5476 to book your MedSpa Month treatments and RSVP for the PRP event."
Read More About
Category: All, Business, Entertainment