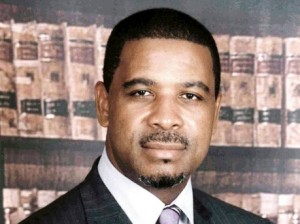 Former Premier of the Turks and Caicos Islands [TCI] Michael Misick was released on conditional bail by the TCI Supreme Court today [Jan 13], with the Governor's office stating that the Court ordered that the bail terms remain private.
Despite that order it appears some details have surfaced, with the TCI Sun reporting that Mr Misick's bail had been set at US $10 million, and ten persons, all Turks and Caicos Islanders, came forward as sureties with land and buildings valued at just over $12 million.
Mr Misick faces charges of conspiracy to receive bribes, conspiracy to defraud government, and money laundering related to his time in office. He will appear next at the TCI Supreme Court for a sufficiency hearing on Friday, 7 March 2014.
His bail application was initially rejected by a Magistrate on 7 January 2014, before being accepted on appeal by the Turks and Caicos Supreme Court later in the day. While his bail was agreed, the conditions were not met, and he was remanded in custody and subsequently released today.
Mr Misick was arrested in December 2012 by Brazilian Federal Police in Brazil, and he was extradited back to the TCI last week.
Due to the allegations of corruption, in 2009 the UK Foreign Office, imposed direct rule on the TCI and the island's administration was suspended and power was transferred to the UK-appointed Governor.
Power was handed back in November 2012, with the Progressive National Party [PNP] winning the Turks and Caicos General Election.
Read More About
Category: All, Court Reports, Crime