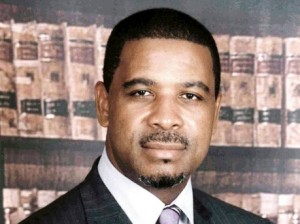 [Updated] Former Turks & Caicos Premier Michael Misick arrived at the TCI Airport this morning [Jan 7], after being extradited from Brazil.
Misick was arrested in late 2012 in Brazil after leaving the TCI in March 2012.
In 2009 the TCI Governor, on the instructions of the UK Foreign Office, imposed direct rule on the TCI and the island's administration was suspended and power was transferred to the UK-appointed Governor.
Power was handed back in November 2012, with the Progressive National Party [PNP] winning the Turks and Caicos General Election.
A statement issued this morning by the TCI Governor's office said: "The UK Government welcomes the arrival of former Premier Michael Misick in Turks and Caicos Islands to face a number of serious charges relating to corruption and maladministration during his time in office. They are most grateful to the Brazilian authorities for their swift handling of TCI's extradition request.
"It is important for the people of TCI, a UK Overseas Territory, that the rule of law is respected and due process is followed. It will now be down to the TCI Courts to consider Michael Misick's case as well as that of 14 others charged with similar offences."
Update 3.47pm: TCI Premier Dr. Rufus Ewing said, "I welcome the return of Premier Misick to the Turks and Caicos Islands, the home that he loves, and to his family and friends, who have all been praying for his safe return.
"Premier Misick will be processed and I trust that through the will of God, fairness and justice will prevail and the Rule of Law will be executed in a manner that is fair, respectful and transparent as it upholds his basic Human Rights."
Update 7.26pm: According to the Turks and Caicos Sun, Misick arrived on what appeared to be a military plane and kissed the ground after he arrived back in TCI from Brazil.
They also report that the Magistrate's Court in Grand Turk has refused Misick bail, and that his lawyers plan lodge an appeal in the TCI Supreme Court to have him released from custody.
Update 11.07pm: The TCI Governor's office said Misick appeared in Court and was charged with conspiracy to bribe.
His bail application was initially rejected by the Magistrate, before being accepted on appeal by the Turks and Caicos Supreme Court later this afternoon.
"As he was unable to meet the bail conditions this evening, he has been remanded in custody in Her Majesty's Prison in Grand Turk. If he meets the bail conditions before Monday, 13 January 2014, he could be released earlier," said the Governor's office
Read More About