NaptuallyMe is getting set to host a Nappy Hour product swap at Chewstick on Friday, March 7 from 6.00pm to 9.00pm.
Davika Hill, the founder of NaptuallyMe, said, "NaptuallyMe is a natural hair care endeavor I started back in October, including a blog, a YouTube channel, and a Facebook page.
"I started it because I was inspired by my second big chop to reach out to other women with natural hair, or those who were considering going back to natural, and provide a place of information and inspiration.
"I also wanted to put on events because I saw a need for it.
"This is the second event that I'll be hosting under NaptuallyMe. It's going to be a happy hour product swap. I wanted to have a product swap because I know from experience that one of the challenges women with natural hair face is finding the right products for their hair.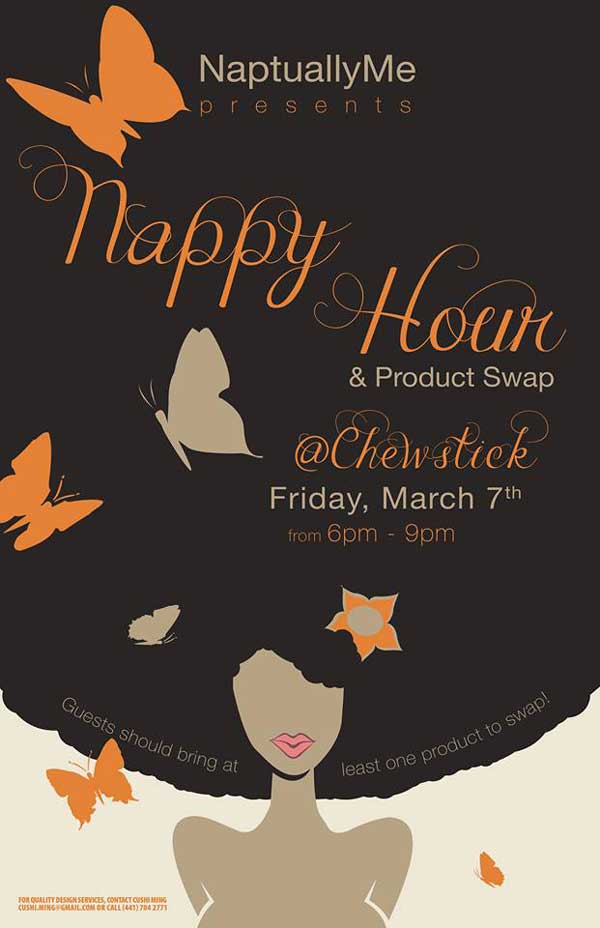 "Not all products work on all hair types and we tend to go through phases where we try a whole load of products before we stumble on the one that works for our hair. Often times, we're left with bottles of unused products.
"The product swap allows women to put those products to good use by sharing them with others who may benefit from them.
"It also allows guests to try new products without having to risk wasting their money on something they may not end up using too often."
The NaptuallyMe Nappy Hour Product Swap is absolutely free to attend, though all participants are asked to bring a product to contribute to the swap.
To learn more about NaptuallyMe, visit their blog, Facebook page, and YouTube channel. For more information about the Nappy Hour Product Swap, click here.
Read More About
Category: All, Entertainment, Style & Beauty