Earlier this summer, Northshore Medical & Aesthetics Center [NMAC] teamed up with Bermudian Naturalista Nicole Famous to present the sixth annual Natural Blessings Hair & Beauty Expo at St. Paul Centennial Hall in Hamilton.
The event highlighted Bermuda's top natural hair stylists, offered tips on wear and care of natural hair, along with a presentation by Caribbean Dermatology Association Apple Award Winner Dr. Kyjuan Brown on hair restoration.
Yesterday [August 21] Ms. Famous and Dr. Brown presented a cheque with the proceeds from the Hair Expo to student Yosefyah Williams, who is studying Health Promotion at Dalhousie University. They hope this money will provide Ms. Williams the financial support for her to continue to pursue her academic endeavors.
Dr.  Brown said, "This is our second year being involved in Natural Blessings and because we have a special interest in hair restoration it was a natural synergy.
"As a young person myself who needed that helping hand, those extra dollars to buy some books etc. make a difference when you're a struggling college student," Dr. Brown told Bernews. "So without a doubt, we were happy to be involved and we're looking forward to next couple of years being involved with Natural Blessing and giving back to the community."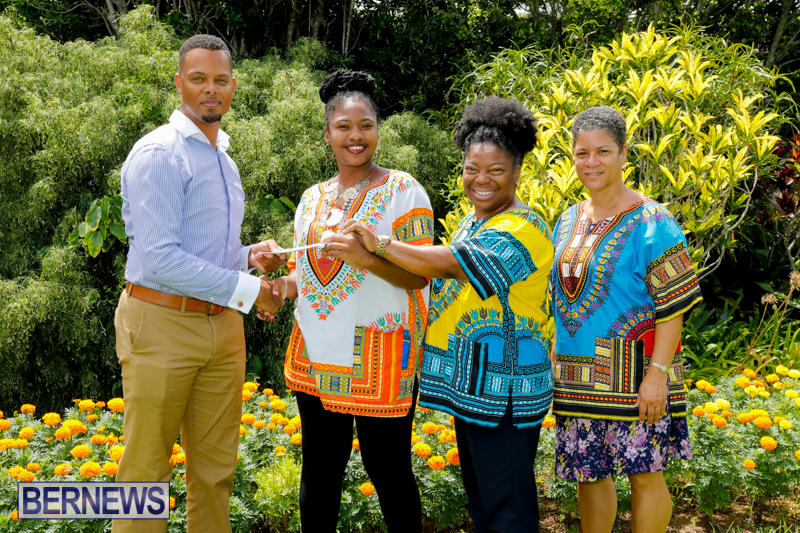 Previously, the Expo would give the proceeds back to the senior community, however, Ms. Famous said that this year "scholarships have been less than normal so we decided that we would give back to the students to help them get their education.
Ms. Famous further explained: "The actual hair show is something that I decided that I wanted to do because I went to hair show in Atlanta and I met the first congresswoman when I got back to Bermuda and she said to do something that can involve the seniors, so now that we did six years for the seniors, we decided we're going to help students moving forward to our 10th year.
Ms. Famous said she specifically chose to put on a hair show in order to "educate the community on Naturalists because I am a Naturalist."
After receiving the cheque Ms. Williams said, "It was Dr. Martin Luther King Jr. who said, "If you can't run then walk if you can't walk then crawl, but whatever you do you have to keep moving" [Tabaka, 2016]. This is a very important motivational statement that pushes me through all of the obstacles I encounter on my journey through life. It reminds me to push past the pain and hardship.
"I say all of this because anyone who has been to university knows that financially it's not easy and if you don't have the means or access to certain resources you struggle trying to make it through.
"I am, however, thankful for those people that I have encountered on my journey like, Ms. Famous, who has shown me that there are people in the community who want to see young adults like me succeed so that we can come back and contribute to our community.
"I am thankful for Natural Blessings, not only for the scholarship that will help me pay my first month of rent but also because of what they do. So thank you Ms. Famous and Natural Blessings."

Read More About
Category: All, Entertainment, News, Style & Beauty