The pulses are racing at Allied World, a global insurance and reinsurance company with Bermuda operations, after it committed to signing up for a new health and wellness programme.
Almost 50 staff at Allied World's Bermuda office, which is based on Richmond Road, in Hamilton, have signed up to the Virgin Pulse programme, brought to Bermuda by the Colonial Group.
Naz Farrow, Colonial's Chief Operating Officer for Health, said that helping to get people healthier was one of the main driving forces behind bringing in Virgin Pulse.
Nicole Correia, Human Resources Manager, Allied World Bermuda, taking part in her Virgin Pulse exercise regime.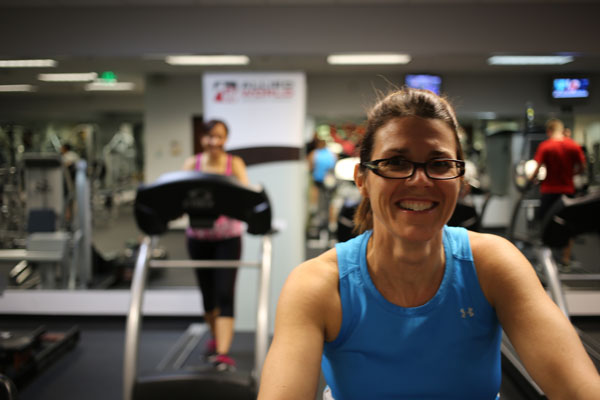 She added, "The healthier people are, the more productive they are and the less they rely on the health care system. If that is the case, we can start to level out the rise in health care costs which helps to control increases in premiums."
Bryant Richards Jr, who is on Allied World's local wellness committee, said, "Employees were looking for a fresher programme; something new and more dynamic. The Virgin Pulse programme is fun and our employees are really enjoying it."
Virgin Pulse has two packages – the Ultimate edition for Colonial clients with Corporate Wellness Benefit in their medical plan, and the Express edition for those Colonial clients who have major medical coverage.
Laura Simons, Assistant Manager, Accounting, Allied World Bermuda, walks on the treadmill as part of her Virgin Pulse exercise regime.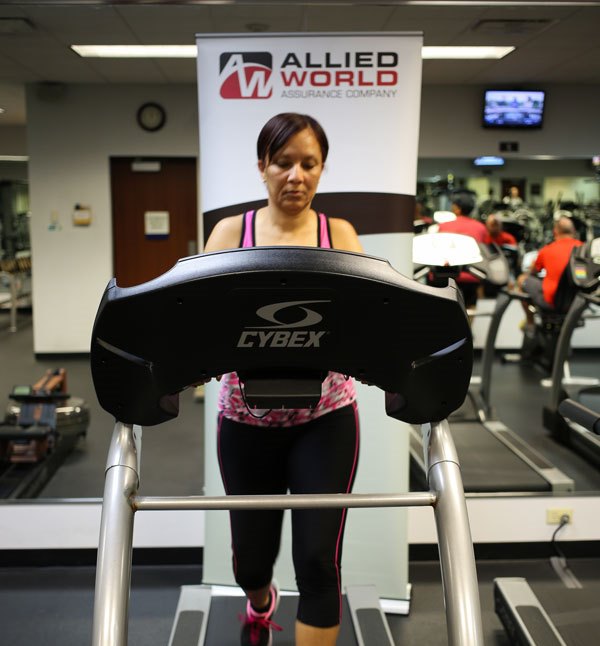 With the Express edition, people have access to a secure, personalized online portal where they can monitor their health and track their progress.
They can use devices such as the Virgin Pulse Max™, Fitbit, Polar, and RunKeeper to track their activity and they can self-enter their key biometrics like weight and blood pressure.
With the Ultimate package, people get the same as the Express but are given a Virgin Pulse Max™, which measures things like the number of steps they take each day, as well as quarterly Colonial-sponsored challenges.
Kirsten Beasley, Allied World Bermuda's Chief Operating Officer, added, "Most of our staff are sitting at desks throughout the day and we understand that increases certain health risks. In implementing the Virgin Pulse wellness programme here in our office, we are trying to encourage people to take more interest in their health and wellbeing."
And Nicole Correia, Human Resources Manager for Allied World Bermuda, said, "This is a win/win for the company. In addition to providing a perk for our employees, this also helps to limit our health insurance costs."
Read More About