A group of nine former Commanding Officers of the Bermuda Regiment released an analysis paper, saying they "strongly recommend that Section 4 of the Defence Act [which demands that the ranks of the Regiment be filled first with volunteers, then by conscription if the number of volunteers is not sufficient] should be left as it is."
"If it is agreed that we wish to retain a Regiment that is fit for its roles then it must be accepted that the Regiment has to be at least 400 strong. Given demographic trends and a poor history of volunteerism, the risk that the strength cannot be sustained by volunteers is very high," said the paper.
"A longstanding criticism of the present system of conscription is that it allows many to escape service completely, whether for medical reasons, for educational reasons or by virtue of some other type of unfitness for military service.
"It may be that a system of National Service, requiring all our young people to take part, but allowing them some choice as to what type of service is performed, will be thought a fairer way," noted the Colonels.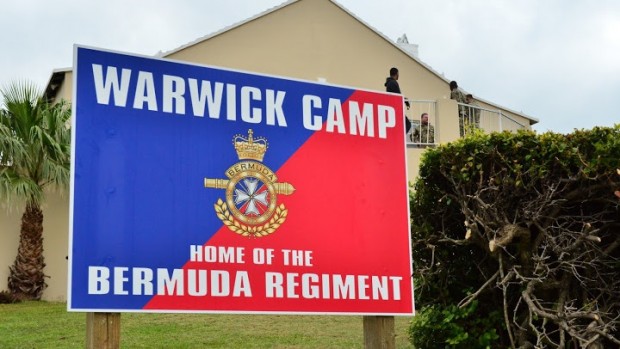 The group include nine of the eleven living former Commanding Officers: Lt Col Michael Darling, Lt Col CE Raynor, Lt Col Gavin Shorto, Lt Col Allan Rance, Lt Col Patrick Outerbridge, Lt Col David Gibbons, Lt Col William White and Lt Col Brian Gonsalves. Lt Col Brendan Hollis was initially not involved, but has joined the group recently. Lt Col Edward Lamb and Lt Col David Burch are the two remaining COs who are not involved.
Conscription first began in Bermuda under the all white Bermuda Rifles in 1957, and the all black Bermuda Militia Artillery began conscripting in 1960. The integrated Bermuda Regiment, which started in 1965, began with conscription in place.
National Security Minister Michael Dunkley is on record as supporting the move to a volunteer Regiment, previously saying that "no one can question my commitment and that of the Government to the elimination of conscription."
Larry Marshall Sr. — well known for his work with the anti-conscription group Bermudians Against the Draft — has previously put forward his ideas related to removing conscription while handling tasks the Bermuda Regiment presently does.
The full paper from the nine ex-Commanding Officers follows below [PDF here]:
Read More About