Local filmmaker Rosheena Beek will be presenting her new film "Before We Were Man" during the Black Woman's Mini Video/Film Fest Bermuda 2014 on April 11, with the screening set to be double featured with Sundance 1991 standout film "Daughters of the Dust."
The Black Woman's Mini Video/Film Fest will continue with an after party following the screening featuring Ashanti Caesar [Princess Black]. On April 19, Marqudelle Philip Rodriguez will screen his film "Bermuda Was Another World," with the Donquile Dance Troop set to perform on April 26.
All three events will take place at the Chewstick Neo Griot Lounge & Cafe in Hamilton. On each night, the doors will open at 6.00pm, with the screening of "Before We Were Man" set to begin at 7.30pm.
According to bdatix.bm, "Moja Co. Productions, in conjunction with the Chewstick Foundation, proudly present this historic inaugural event, The Black Woman's Mini Video/Film Fest 2014. This dynamic Fest will highlight two Black women writer/directors: Rosheena Beek, Bermudian filmmaker, and Julie Dash, an American filmmaker.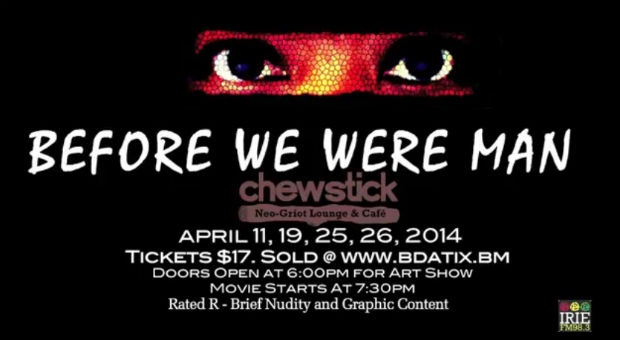 "Rosheena Beek will debut her "powerful" and "enlightening" film "Before We Were Man," posing the question, 'what if you had the power to choose your mama?'
"This event will present a double feature with "Daughters of the Dust", a 1991 Cinematography Award Winner at the Sundance Film Festival. To accent this event, an art show will also be featured for the patrons of these highly cultural nights.
"The artists will be Kendra Earls, local phenom, and Zianna Rubaine, an extremely talented student of the arts who can already boast that she had her first solo show at the Bermuda College Student Art Gallery, and international artist Patrick-Earl Barnes, who has dedicated a great part of his repertoire to the upliftment of women.
"Nights filled with excitement and incomparable talent are going to be witnessed by all. And if you thought this event couldn't get any better, the very first screening night, three Bermudian women, who were trailblazers in the film industry, will be honored.
"This event will definitely go down in the history books as one of the most extraordinary events of its kind; you do not want to miss it. All are welcome."
Official "Before We Were Man" trailer, photographic credits to Michelle Laylor
Tickets to the screening cost $17 each and are available for purchase at bdatix.bm. For more information on the Black Woman's Mini Video/Film Fest Bermuda 2014, visit their Facebook page.
Read More About
Category: All, Entertainment, Films/Movies