The Bermuda Environmental Sustainability Taskforce [BEST] said they were "alerted this morning to a notice in the Official Gazette that the tree behind the old Magistrates Court building on Reid and Parliament Streets was to be removed".
BEST said, "While the wording in the official notice clearly refers to removal of the tree, the Minister has assured us that the plan is not to cut it down but only to prune it.
"We have been hearing from our supporters a sense of disappointment that so many of the remaining trees, in the City and beyond, are being slated for severe pruning or complete removal as though they were totally dispensable. We have advised them that the tree is only going to be pruned but it is clear that the concern is growing for Bermuda's diminishing stock of significant trees.
"Virtually every car-driving Bermudian goes looking for a tree to park under for the shade. But beyond that, we seem to have little understanding of the real value of trees. The following list of services a single tree provides should help that understanding."
Graphic provided by BEST: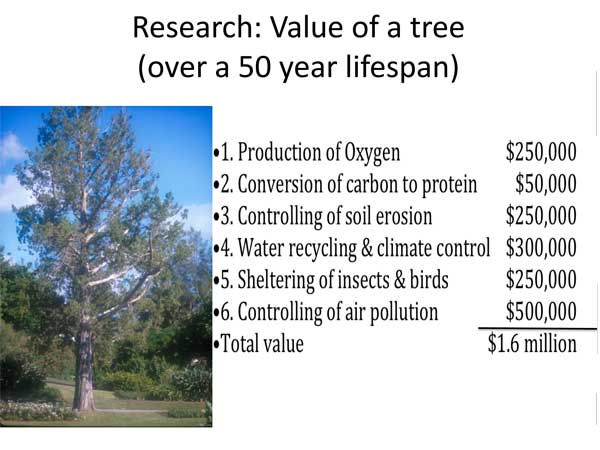 "We remember the Poinciana tree at the end of Serpentine Road that was cut down without notice. And it seems this kind of precipitous action was at least being contemplated here. Except for the obligatory tiny ad in the newspaper to close the street, we have been given virtually no notice of their intention.
"We deserve better. One by one the trees that keep Bermuda from being totally urban are being picked off. This has to stop. These actions, purportedly being made on our behalf but excluding us from the process cannot continue.
"We have to ask what is wrong with this kind of thinking? Can't we solve a relatively minor problem without having to destroy trees in the process?
"We are appealing to the government to take the following steps:
1] Cease any plans to remove this particular tree without reasonable consultation.
2] Halt any plans to "remove", cut down, eradicate or in any other way do away with mature trees in the City without giving the public adequate notice and a reasonable time in which to consider and respond.
3] Change the thinking that devalues trees and replace that kind of thinking with policies and practices that recognise the true value of trees, to our landscape, to our well-being, to our tourism product, and to the economy as a whole.
4] And let's start treating trees according to their true value — they are worth far more to us standing tall than as lumber or lying dead on the ground."
Read More About
Category: All, Environment, News