[Updated: Ministry of Public Works issue an apology and explanation concerning the removal of the tree]
BEST released the photos below which they said offer confirmation that the "mature poinciana behind the old Magistrates Court building on Reid and Parliament Streets was cut down over the weekend."
Last week, the environmental group issued a statement saying they took note of the notice that the tree was to be cut down, saying: "One by one the trees that keep Bermuda from being totally urban are being picked off. This has to stop. These actions, purportedly being made on our behalf but excluding us from the process cannot continue."
A statement from BEST said, "Despite assurances from Minister Patricia Gordon-Pamplin and senior civil servants in the Public Works and Parks Departments that there would be no tree removal, only pruning, it is extremely discomforting to experience such a reversal in actions.
"The Minister has already reacted rather sharply to the level of attention we have given the trees at this location and tree removal in general. We assert that this kind of precipitous tree-removal is not in the best interest of fostering trust between decision-makers and the public.
"For us, the lost tree represents a breakdown in communication somewhere within Government, and reinforces a high level of vigilance on the part of BEST and its supporters.
"With that in mind, we would add a fifth step to our previous list for the government: That the government plan and announce an aggressive plan of action for re-forestation on the Island."
Photos provided by BEST: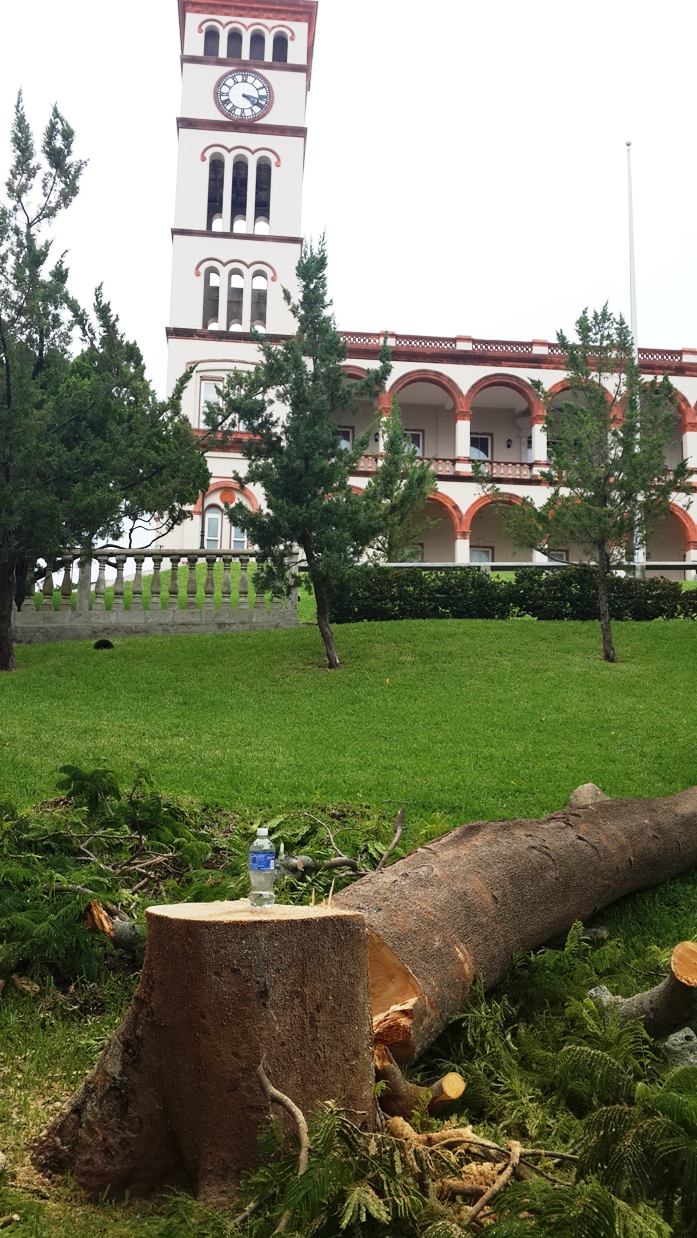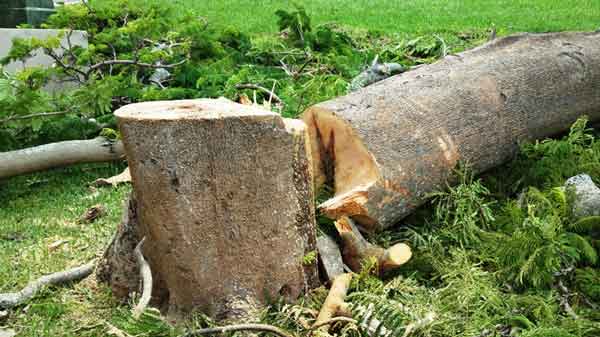 Update 8.06pm: The Ministry of Public Works said they "would like to issue an apology and an explanation concerning the Department of Parks removal of the Poinciana tree at the Old Magistrates' Court building."
A spokesperson said, "The Department of Parks was contacted by the Buildings section approximately two months ago with a request to assist with pruning trees at the Workforce Development Office due to damage caused by the trees' proximity to the buildings, and the resulting blockage of the drains, leaking of the roof, and falling in of the interior ceiling.
"The work was scheduled for Sunday, August 24th 2014. At a final meeting held on 22nd August, 2014, those responsible for the operation discussed what works would be required. At that time they decided to prune the Kapok tree as well as remove the Poinciana, due to the difficulties with its location and the rot found in the tree.
"Unfortunately, this information was not shared with the Senior Superintendent or the Director, hence, they were unable to advise the Minister, the Hon. Patricia J. Gordon-Pamplin JP MP, of the impending decision.
"As a result, on the same day when BEST requested information on the intent of the department, the Minister gave the information that was at hand."
The Minister said: "Had we been previously advised that the Poinciana was in that condition, we would have informed the public regarding the removal of the tree as we are acutely aware of the sensitivities regarding the removal of trees within the city limits."
The Minister continued: "The Department of Parks is planning to replace the Poinciana, preferably with a Jacaranda, which will be situated further away from the buildings."
"The Ministry has also undertaken to improve its communication protocols in these matters," a spokesperson added.
Read More About
Category: All, Environment, News