Bermuda Regiment soldier Che Edmead said that he had no regrets about his hurricane service – despite suffering a broken leg after he was hit by a car. Pte Edmead was injured while directing traffic during the massive clean-up of roads after Hurricane Gonzalo.
Pte Edmead said, "It was crazy – my leg is broken. But it's been a crazy few days anyway."
But – despite his injuries – Pte Edmead, 29, a service technician with an office supplies company, said he was pleased to have been called up to serve during the hurricane.
Pte Edmead, a bass drummer in the Regiment's Band and Corps of Drums, added, "I was just doing my job – and that job is taking care of the community.
"I enjoy my time at the Regiment and I've signed up past my three year period. I like playing music and also providing for my country."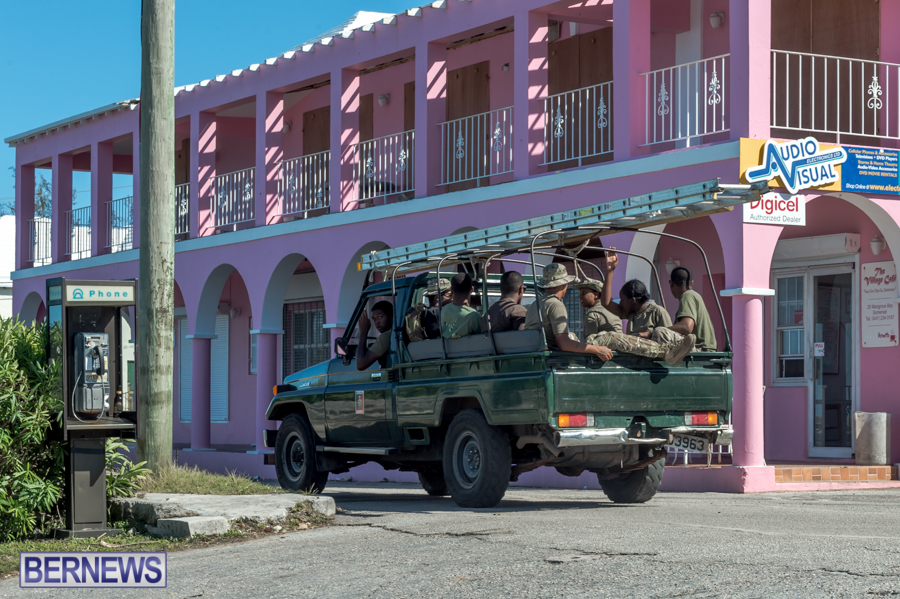 Pte Edmead was injured on Monday morning as he helped direct traffic around a Regiment crew clearing the road near the Government Quarry in Hamilton Parish.
He was treated at the scene by Regiment soldiers and a first-aid trained US Coastguard sailor, who arrived on the Island aboard HMS Argyll, which was deployed to the Island to help with the hurricane recovery.
Pte Edmead said his leg had been put in a half cast at the King Edward VII Memorial Hospital and he will be further assessed to see if he needs a full cast.
He added he expected to be out of action for five or six weeks while the break in his fibula heals.
Regiment Commanding Officer Lt Col Michael Foster-Brown, who visited the injured soldier in hospital with Regimental Sergeant Major Gavin Rayner and met Pte Edmead's family, said: "We all wish him a speedy recovery and look forward to seeing him back on his feet as quickly as possible."
He added that Pte Edmead's medical expenses would be covered by the Regiment as he was injured on duty.
Col Foster-Brown said that the Argyll, which steamed to Bermuda from the Caribbean to offer hurricane recovery assistance, had set sail today.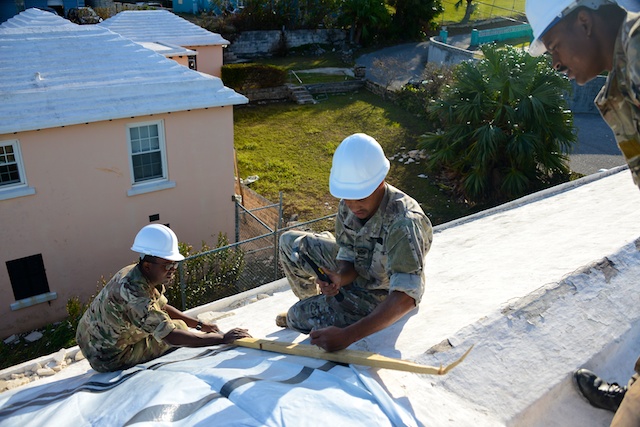 He added: "The Navy have been hugely helpful – and at no charge to Bermuda. We've really enjoyed working alongside them and their presence over the horizon as we faced a Category 3 storm was hugely reassuring.
"If the hurricane strike had been worse, they could have saved lives. And it also provides a valuable rehearsal for the future and the next hurricane that comes."
Most of the embodied soldiers will be stood down Wednesday night [Oct 22], with a few dozen volunteers staying on to help with the restoration of power to homes and businesses.
Commander Paul Hammond, Argyll's captain, said: "We have enjoyed being of assistance and the ship's company have got a lot out of it.
"It's a genuine pleasure to be here and help out. The lads have got a lot of satisfaction out of it, although they're pretty tired, and they feel they've made a difference."
For all our coverage of Hurricane Gonzalo click here.
Read More About