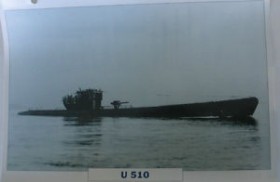 On what would ultimately prove to be her final voyage, the Uruguayan vessel "Maldonado" sunk off the coast of Bermuda in 1942 after being attacked by a German sub, with some of the ship's survivors brought to the island.
At the time of the sinking, the "Maldonado" was captained by Mario Giambruno and had a crew of 49 Uruguayans.
The ship left Montevideo in July of 1942 and set out for New York, with cargo including tinned corned beef, leather, wool, and other goods.
On August 1, 1942, the "Maldonado" was roughly 260 miles south-southwest of Bermuda when a German U-510 submarine [pictured above] commanded by Karl Neitzel fired torpedoes at the ship after apparently misidentifying it. The "Maldonado" was sunk, with its commander captured by the Germans.
The Germans demanded the captain board their submarine, which historical reports suggest could have been to help verify the neutrality, or at least the status, of the "Maldonado."
The German U-510 sub then headed off, leaving 48 men – and one dog, a ship animal named Fausto – at sea, hundreds of miles from land in small lifeboats.
The lifeboats remained together until they were separated in a storm during the third night.13 men in one boat were spotted by the USS Owl, rescued, and landed in Bermuda after drifting at sea for a few days.
Another boat with 13 more men was retrieved and taken to New Jersey, and the last batch of survivors of the "Maldonado" were sighted by a US Navy Catalina patrol plane and rescued shortly after.
Fausto the dog was also rescued after spending days adrift at sea. News of the sinking and the captain's capture by the Germans was passed on by the crew who were brought to Bermuda.
In Uruguay, this spurred anti-German demonstrations and riots, with one example of the unrest seeing a demonstration of about 2,000 people end with the stoning of a German shop, injuring the proprietor.
With the Uruguayan government strongly protesting the events, police were eventually able to restore calm.
The Germans released Captain Giambruno later that year, allowing him to escape through Switzerland and return to Uruguay by late 1942.
Read More About