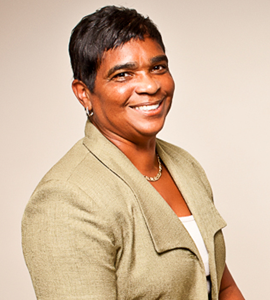 [Opinion column written by Minister Patricia Gordon Pamplin]
Two years into the OBA's first term as Government, the green shoots of economic recovery are starting to show. After almost six years of non-stop economic doldrums, business closures and job losses, Bermuda's economy has recorded growth, businesses incorporations have increased, hotel developments are poised to begin and we will host the America's Cup finals in 2017.
Despite these hopeful signs, the opposition pours cold water on the progress being made and fills the media, airwaves, and online commentary with mischievous misinformation.
They take quotes out of context, make assumptions lacking any credibility and portray anecdotal stories as fact, all in their attempt to portray the OBA as a party that is only interested in big business and promoting the interests of a select, rich few at the expense of struggling Bermudians.
A few recent examples will illustrate this calculated and sustained opposition effort to undermine the Government and sow doubt in the minds of Bermudians.
The Opposition claimed that I had my roof repaired by Public Works staff. Not true. In fact, my roof is still not repaired and every time it rains water pours in.
An Opposition member erroneously claimed in the Senate that a principal of the Desarrollos Hotelco Group, which will develop the Club Med site, had been convicted and jailed for participating in a Ponzi scheme. The Senator later withdrew his accusation, perhaps because he knew the offended party had instructed local counsel to sue him if he didn't.
The Opposition claimed 115 men had been locked up during the past two years for non-payment of debts. The truth is that the number of persons incarcerated for debt-related issues is the lowest it has been in 10 years – 10 people in 2014 compared to 158 in 2004.
Debtors are not imprisoned for being unable to settle their debts, they are imprisoned for contempt of court, examples of which could be not showing up for a scheduled court appearance or deliberately refusing to pay a debt when they have the ability to do so.
On the proposed building of a new airport, the Opposition claims the Government is giving away a billion dollars in future revenue to a foreign developer and privatising the operations. These are fabricated claims seemingly designed to distract the public from their failed attempts to build a new airport during their 14 years in Government.
The truth, as has been repeatedly outlined by the Minister of Finance, is that while the financial details are still being worked out, any speculation is simply a distraction from what we are aiming to achieve – a new airport, jobs for Bermudians and no further debt added to our already overstrained treasury.
Opposition Leader Marc Bean accosted and subjected an OBA member to a misogynistic verbal attack, denied he did so but later confirmed he had done so in a message to his colleagues.
He later continued his sexist insinuations on talk radio and neither he nor his colleagues have apologised or distanced themselves from these attacks – thereby condoning such behaviours as acceptable to Opposition members.
Each week in the House of Assembly, Opposition members trot out a laundry list of the same old attacks. And each week they are refuted with the facts by Government members.
It's easy to say the Opposition simply don't know what the facts are. But over and over and over again? That is surely a calculated attempt to gain political advantage by misinforming the public.
The problem is, these false claims which are reported and available online for the world to see, undermine the Government's efforts to attract foreign investment and get our economy back on track.
Scaring away foreign investment means fewer jobs for Bermudians – the very people the Opposition claim to represent. They are, in effect, cutting off our noses to spite our faces.
Will the Opposition find reasons to attack the America's Cup and explain how it is bad for Bermuda and Bermudians? We wait with bated breath!
Certainly it is the Opposition's responsibility to constructively criticise Government policies and legislative agenda. However, this should be done in a well-researched and rational manner rather than simply throwing mud in the hope that some of it will stick.
The Government will always challenge the Opposition's falsehoods. The public should do likewise. Be suspicious of the Opposition's charges. Separate the fact from fiction.
- Patricia Gordon Pamplin

20 Most Recent Opinion Columns

Opinion columns reflect the views of the writer, and not those of Bernews Ltd. To submit an Opinion Column/Letter to the Editor, please email info@bernews.com. Bernews welcomes submissions, and while there are no length restrictions, all columns must be signed by the writer's real name.
-
Read More About