[Opinion column written by Larry Burchall]
Where, exactly, does Bermuda stand? What needs to happen between now and July 2020?
Lots of numbers get tossed around, but, as with any arithmetic problem, there is really only one answer. Here, exactly, is where Bermuda's public debt stands, on this day, as you read this.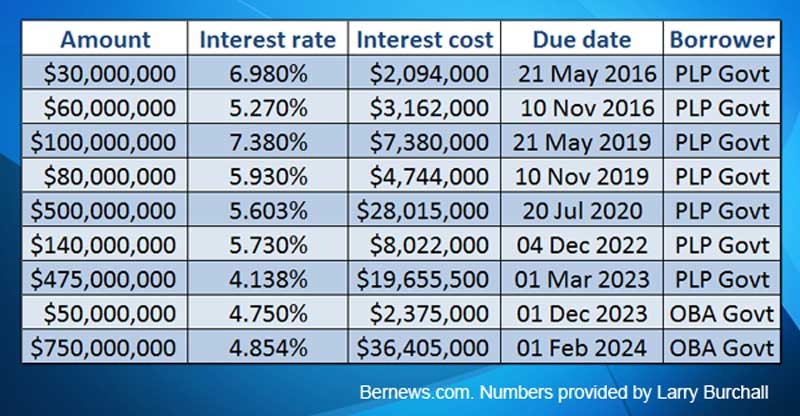 Basic Facts
The current total for all Notes and Bonds is $2,185,000,000 [that's $2.185 billion].
The current average annual interest rate on this $2.185bn is 5.12%.
The total annual interest cost is $111,852,500.
The 'due date' is the date on which the lender expects to be repaid the full amount of the loan.
Of the current outstanding Debt, the previous PLP Government borrowed $1,385,000,000 [$1.385 billion]. This was borrowed over the six years between 2007 and 2012.
Of the current outstanding Debt, the current OBA Government borrowed $800,000,000 [$0.8 billion]. All of this was borrowed in 2013.
Only $50,000,000 is owed to local lenders. This $50m total and its annual interest is repaid and paid in Bermuda dollars. The annual interest cost for this $50m loan is $2,375,000 [Bd$].
The remaining $2,135,000,000 is owed to foreign lenders. The loan and the interest must be repaid and paid in US dollars. The annual US$ interest cost is $109,477,500 [US$].
Key Facts Connected To That Debt
The Government Loans Act mandates that Government must annually set aside 2.5% [one fortieth] of the value of the public debt outstanding at the end of each preceding year. This applies to the $2,185,000,000 that is currently owed.
One fortieth [2.5%] of $2,185,000,000 is $54,625,000. In 2015, the Government must set aside $54.625 million. This is paid into the Government Borrowing Sinking Fund so as to build up funds intended to repay the outstanding public debt.
Adding the annual Sinking Fund contribution [$54.625m] to the annual interest payments [$111.8525m] gives an annual non-negotiable Debt Service Cost of $166,477,800. This annual Non-Negotiable Cost [NNC] is what I call Nanci.
Nanci is a non-negotiable cost because Bermuda law sets the Sinking Fund contribution and the loan contracts with the overseas and local lenders set the interest rates.
Sinking Fund Contribution Is Now Too Small
In 2015, and particularly since 2010, Sinking Fund contributions are and have been, too small. The legislated 2.5% rate was set thirty-seven years ago, in 1978, in a time when no one – no one at all – envisaged that Bermuda's public debt would ever get as high as now – currently over twice Government's annual revenue [2014/15 Revenue $902m/Debt $2,185m].
In 2015 and going forward, a more realistic annual Sinking Fund contribution would be at least 4.5%. This would require that the Government-of-the-day set aside 4.5% of $2.185 billion.
4.5% of $2,185,000,000 is $98,325,000 [$98.325 million].
If this more realistic Sinking Fund contribution commenced in 2015, then Nanci would rise to $111.9m + $98.3m = $210.2m
Clearly, with this and the next Government administration struggling to find the current $166 million for Nanci, achieving $210.2 million would be impossible.
So from 2020, Bermuda is stuck with Debt rollover, which means, consequently, seeing Nanci rise anyhow! It's that classic – centuries old – Debt Trap!
KEMH Costs Join Nanci
When, finally, Government starts paying for the new KEMH wing, Nanci will grow even larger by this new and additional Non-Negotiable Cost.
This KEMH addition to Nanci is currently expected to be around $30 million a year. That will grow Nanci to $196 million a year [$166 million now + $30 million for KEMH].
America's Cup And GDP
As the America's Cup activity and some of the projected construction projects start up and continue, Gross Domestic Product [GDP] should begin inching up and Bermuda's six year recession should technically subside.
Between now and 2017, driven by the America's Cup and new construction works, I expect and predict that GDP will rise; that unemployment amongst Bermudians will fall; and that there should be a small increase in overall Government revenue.
In Bernews [9th December 2014] I explained why, despite the revenue rise and economic improvement, these America's Cup and construction projects still will not lift Bermuda's GDP high enough to resolve Government's self-inflicted Debt Trap problem.
Even with all 28,000 potentially available Bermudians employed, Bermuda's national workforce still won't get past 38,000. However, going into 2020, economic success requires that Bermuda's national workforce grows beyond 38,000. Bermuda's national workforce needs to go past, way past, 40,213 and the $6.11bn GDP level of 2008.
Despite even a major 15% rise in GDP between now and 2017, the underlying arithmetic that I've described does not change.
On current trajectory, by 2017, Bermuda's GDP will not rise beyond the minimum $7.5bn ceiling that is needed for break-even [See Bernews: 18th December 2014].
What Size Economy Does Bermuda Need?
What Bermuda needs is a national workforce that goes well past 40,213 persons filling jobs in Bermuda; and an annual net year-on-year GDP rise around 8% that will push GDP to $8.0bn – and do so before 2020.
The unchanging underlying and absolute arithmetic is that Bermuda's economy must become big enough to afford Nanci without continued Government borrowing or severe Government cost-cutting. That requires GDP at $8.0bn or higher.
For Bermuda, a big enough economy is an economy with a GDP of at least $8.0 billion. This level of GDP will require a national workforce far greater than 38,000 people filling jobs in Bermuda.
- Larry Burchall

20 Most Recent Opinion Columns

Opinion columns reflect the views of the writer, and not those of Bernews Ltd. To submit an Opinion Column/Letter to the Editor, please email info@bernews.com. Bernews welcomes submissions, and while there are no length restrictions, all columns must be signed by the writer's real name.
-
Read More About