EY today [June 30] announced the retirement of Gil Tucker as Chairman of its Bermuda firm, Ernst & Young Ltd., effective June 30th, and announced the first two recipients of a $30,000 scholarship established in his name.
Mr Tucker, who played an instrumental role in building EY's business on the island, served as Bermuda managing partner from 2005 to 2014, before assuming the role of Chairman in 2014.
In recognition of Mr Tucker's career and contributions, EY has announced the launch of The EY R. Gil Tucker Scholarship, and named the program's first two Bermudian recipients, Hannah Guntl and Gianluca Guglielmucci.
Pete Cangany, Gianluca Guglielmucci, Hannah Guntl, Gil Tucker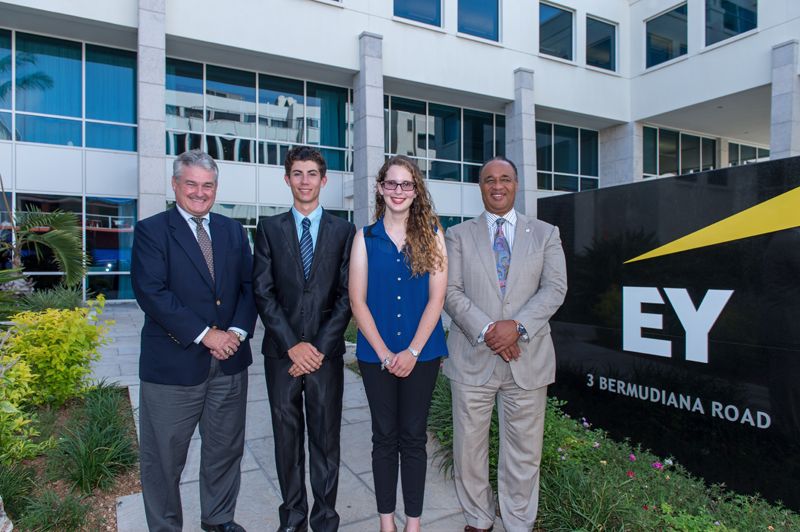 "It has been a privilege to work alongside so many talented colleagues over the four decades I've been at EY, and to see the growth of our brand in Bermuda," said Mr Tucker. "I am proud to say that we have never been in a stronger position in the market, with an outstanding leadership team.
"I am also humbled to have the EY scholarship program named in my honor, and congratulate Hannah and Gianluca. It is critical that we continue to take steps to mentor the next generation of leaders, and this program will help open more doors for young Bermudians seeking careers in professional services."
Mr Tucker joined EY's Bermuda office in 1976, originally serving clients in retail and hospitality, as well as financial services. In 1992, he became a partner and was promoted to managing partner in 2005.
In June 2014, he assumed the role of chairman, championing EY's brand, with a particular focus on public policy matters affecting the Bermuda marketplace, and also was a member of the EY Americas Diversity Task Force.
Outside of EY, Mr Tucker serves as the Co-Chairman of Bermuda First, Chairman of the Board of Saltus Grammar School and Treasurer for the Bermuda Hospitals Charitable Trust. He was named Fellow of the Institute of Chartered Accountants of Bermuda in 2013.
"Gil has made countless contributions to Bermuda, to the accounting profession, and to our firm," said Pete Cangany, EY's Bermuda Senior Partner.
"I thank Gil for his contributions and his leadership, and wish him a well-deserved retirement. We are very pleased that his legacy will live on at EY, through the high performing organization he helped create, the high standards he has set and the scholarship program we are announcing today."
The EY R. Gil Tucker Scholarship program, overseen by EY Partner Craig Redcliffe, offers participants financial support toward their degree, as well as an opportunity to gain practical experience as an EY intern during summer breaks and full time upon graduation.
Valued at up to $30,000 per calendar year, it is renewable for up-to a maximum of five years until the recipient has completed the educational requirements necessary to begin the Certified Public Accountant [CPA] professional licensure.
EY selects scholarship candidates based on a number of criteria, including academic achievement, extra-curricular activities and community engagement, demonstrating the firm's values and leadership potential.
Hannah Guntl, an international baccalaureate graduate of Warwick Academy, will be attending the University of Western Ontario in Canada.
Hannah has demonstrated overall academic excellence, is active in sports, is an accomplished pianist and has held leadership positions at Warwick Academy and the Girl Scouts.
Gianluca Guglielmucci, an international baccalaureate graduate of Warwick Academy, will be attending the University of Kent in the United Kingdom.
In addition to his academic pursuits, Gianluca has served as a volunteer with the St. Johns Ambulance brigade, is a member of the Bermuda Regiment Junior Leaders program and is active in sports, music, and other community activities.
Read More About