The Bermuda Anglers Club hosted their Annual Junior Fishing Tournament recently. Tournament organisers were kept busy weighing fish of all shapes and sizes, ranging from a 1 1/8th oz grunt to a 42.5lb wahoo.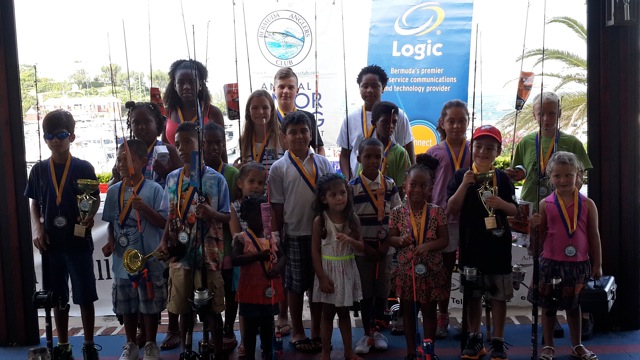 The tournament prize giving ceremony was held on Saturday [Aug 29] at the Royal Hamilton Amateur Dinghy Club in Paget. Prize winners included Dahmony Hill, Sami Carolo and Khwai Mendoza in the Under 6 boys division, and Peyton Hines, Anaiya Bascome, Logan Flood and Zimai Davis in the Under 6 girls division.
In the 7 – 10 yrs boys division, winners included Ethan Soares, Zakee Doers, Jacob Batista and Chrisian Warren while girls included Emma Butterfield, Christianna Warren and Destiny Winters-Taite. Kaleb Medeiros, Tommy Marshall and Jacari Renfroe won in the 11-16 yrs boys division while girls included Gaby Furr and Zahra Wilson.
Click to enlarge photos:
20 Most Recent Sports Photo Galleries
-

Read More About