The first Bermuda Plein Air Festival, featuring international and local participants, is set to be held from November 14 to 21, presenting an opportunity to showcase the island while aiming to to develop recurring tourism, with the support of the Bermuda Tourism Authority.
This event will feature an island wide "paint out" schedule, with a one-day festival on Saturday, November 21, and promises to showcase Bermuda's beauty under the brush of acclaimed professionals, presenting an opportunity for the public to purchase hundreds of paintings, along with prizes to be won.
A spokesperson said, "We know plein air painting is a fast growing leisure activity for all ages and perfect as a new cultural enrichment event to showcase Bermuda at its best.
"We can offer spectacular island-wide locations in which to paint – Bermuda is a painter's dream for colour. We also have a rich history of world famous artists who made Bermuda their winter playground, and the support of an active and vibrant local art community today."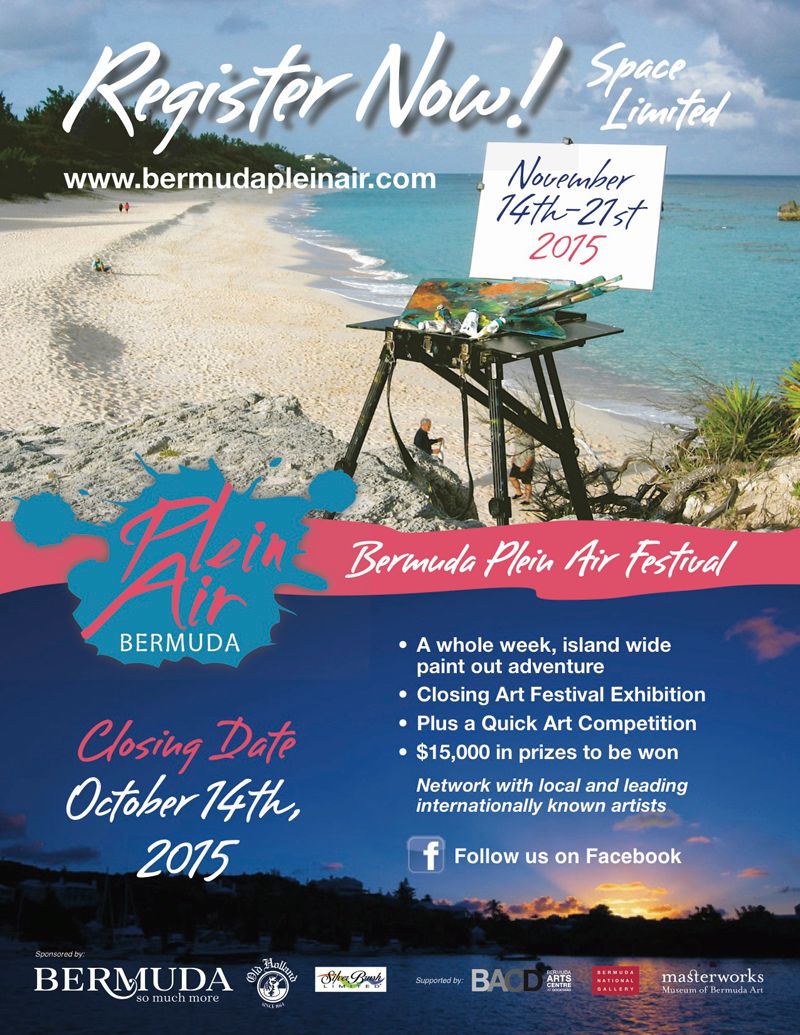 "Bermuda is an easy gateway destination. And November weather can be spectacular! The special value we would add to our visiting artists is that, being local, we can obtain access to beautiful old Bermuda home grounds, and almost-secret magical locations where an unaccompanied visitor might never otherwise have the opportunity to paint.
"We expect our initial audience to be from the US, and Canada with perhaps a smattering of Europeans. We are encouraging the participants to stay the full seven days – and have provided a range of accommodation options at very favorable rates.
"The visiting professional Plein Air artists also have their own following of painters who belong to clubs and community art groups from various US East Coast targeted areas, and they will be joined by many local residents and the Bermuda Plein Air members.
"We are creating an exciting new event, and we are supporting a vibrant art community though The Bermuda Arts Centre, Bermuda National Gallery, Bermuda Society of Arts and Masterworks. Our project partners will evenly split all commissions earned from the final collectors exhibition sales, to put back into their local art programmes."
For more information, visit the website.

Read More About
Category: All, Entertainment, News