[Written by Mikaela Pearman]
The Louis Vuitton America's Cup World Series Bermuda Event Village promises something fun for everyone, not just sailing enthusiasts. Here are seven fun things to do in the Event Village.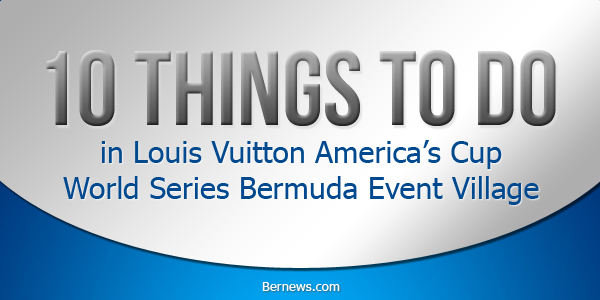 1. Watch the races
Well this is obvious, if you are on the water… But if you plan to be on land, the best place to watch the races is in the Event Village is in the Fan Zone. There will be a huge daylight screen where the racing will be shown along with live commentary and analysis.
2. Chow down in the Food Court
The Food Court will have Bermuda's best street food on offer. Whether you like chicken wings, fried fish, donuts or baked goods, you will definitely find it in the Food Court.
3. The America's Cup Dark 'n Stormy Bars
Come to the Event Village for Happy Hour on Friday night and check out the multiple Gosling's Bars. All our national favourites will be there including Dark 'n Stormy's and Rum Swizzle.
4. Moët & Chandon Lounge
Rum's not your thing? Well maybe you like the bubbly. Head to the Moët & Chandon Lounge to sample various vintages of the finest champagne. I promise you've never seen anything like this in Bermuda.
5. Train like a sailor
Ever wondered what it takes to be an America's Cup sailor? Well the Endeavour Program will host a section where you can test your fitness levels to see if they are on par with the world's best sailors. Check it out at the Flag Pole – just don't try it after visiting the Gosling's or the Moët bars.
6. Zip Line
Yeap, you read that right! There will be a zip-line that takes you over the water offering a great aerial view of the Event Village!  Suitable for both adults and kids; hop on and fly through the air right on Front Street.
7. Red Bull Skydive Show
Red Bull is one of the sponsors and they are coming to Bermuda with a big bang. A sky diving show is being planned and the Event Village is the best place to watch it. I can't give away too many details but be sure to look out for it!
8. Opening Night
The Opening Night will be held on Friday night featuring entertainment by DJ Rusty G, DJ Chubb and DJ Felix, along with fireworks and much more!
9. BMW Displays
Luxury brand BMW will have brand new, electric cars on display for the event. An i8 will be on display outside of Club AC at Pire 6 and there will be an i3 and 2 Series Convertible in the Fan Zone!
10. Shop Team Gear
If you want to be decked out like the teams or sport America's Cup gear, check out the shops in the Fan Zone and the Food Court for shirts, bags, hats, hoodies and more!
- Mikaela Pearman, Communications, America's Cup

20 Most Recent Opinion Columns

Opinion columns reflect the views of the writer, and not those of Bernews Ltd. To submit an Opinion Column/Letter to the Editor, please email info@bernews.com. Bernews welcomes submissions, and while there are no length restrictions, all columns must be signed by the writer's real name.
-

Read More About