[Opinion column written by Chris Famous]
Dear Digicel,
Like thousands of other Bermuda residents, my family have been faithful customers of yours for nearly ten years. We have watched your growth in the both the Caribbean market and the Bermuda market with a sense of pride of seeing you bring innovation and lower prices to the people.
We have taken out prepaid plans, post paid plans, purchased thousands of phones, from Motorola Razors right up to your own android models.
We have faithfully paid out millions of dollars at your Washington Mall store. We have welcomed your store on Court Street and likewise paid out fees there as well.
So many millions of dollars that you have been able to purchase almost anything you wish such local and long distance providers. Heck you all now even have purchased an internet provider out of the millions of dollars we have paid you over the years.
So it is somewhat disappointing that as technology has evolved making local and global communications that much easier, we, your faithful customers, now seem to have issues using WhatsApp?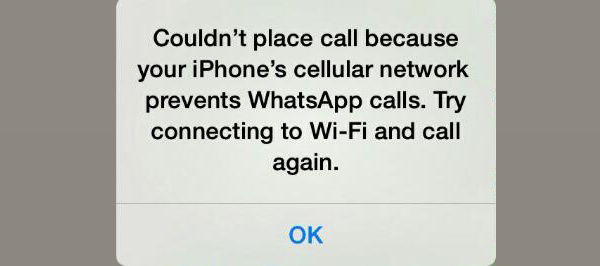 How so you say?
Well over the last year WhatsApp has near perfected their VOIP calling feature that allows any of its 900 million users to call each other irrespective of location.
Thousands of your clients have been using this feature to stay in contact with; family, friends and business clients. It essentially has helped to move Bermudian society and Bermuda's economy forward.
Recently it has come to our attention that local customers have issues using this feature, something we found out ourselves, as you did not have the courtesy to send a SMS message to your thousands of clients . You know the clients who have paid you multi millions of dollars over the years.
Upon further investigation it seems there is pattern in the Caribbean region in islands such as,but not limited to; Antigua,BVI, St. Lucia and Jamaica.
As a matter of fact in the island of St Lucia,  Jn Pierre-Emmanuel who is the Press Secretary to the island's Prime Minister wrote you this note "This is something to cause any customer to become irate. Imagine having a postpaid account with a credit limit of $500.00. There you are paying for something. Yet the provider wants to control how you use it? How unreasonable?!"
A petition was started and sent to the local Digicel office who responded by saying:
"Dear Valued Customer,

We have been following closely the comments and opinions of you our valued customers in relation to VOIP [voice over internet protocol] services on our network.

As a company founded on always delivering on our promise of best value, best network and best service, we pride ourselves on listening to our customers and doing everything we can to ensure that we provide them with the best customer experience.

As such, please be assured that we are working on an approach to VOIO services which takes into account and protects our customers' interests, our business interests and our investment in St. Lucia.

We will be announcing this in a few weeks time and ask for your patience and understanding in the interim."
Basically a long winded way of saying "We are not going to change it."
So on behalf of the thousands of Bermuda residents and business who utilize WhatsApp calling in order to keep in touch with loved ones and important clients, we pose this question….what is happening with WhatsApp?
- If you are a Digicel customer and you cannot make Whatsapp calls I would like to hear from you.You may contact me via email : carib_pro@yahoo.com or Whatsapp me at 441-599-0901. Chris Famous.

When contacted for a response, Digicel Bermuda said, "We can confirm that Digicel Bermuda does not block WhatsApp calls for customers on our network. We have had had a few queries from customers that have had problems with WhatsApp calling.
"This could just be localised network coverage but given Digicel has the best data network in Bermuda, we think this could be related to some software niggles with our unique system that provides unlimited WhatsApp, Facebook, Instagram and Twitter use with a Go Social plan, free with Freedom Bundles on Prepaid.
"Voice calling on WhatsApp is explicitly excluded from the "free" use on these plans but should still be available for customers on a pay as they use basis. Any such issues should now be resolved so we would encourage any customer experiencing problems to let us know."

20 Most Recent Opinion Columns

Opinion columns reflect the views of the writer, and not those of Bernews Ltd. To submit an Opinion Column/Letter to the Editor, please email info@bernews.com. Bernews welcomes submissions, and while there are no length restrictions, all columns must be signed by the writer's real name.
-

Read More About
Category: All, News, technology