Following a petition being launched opposing same sex marriage in Bermuda, the petition calling for same sex marriage to be legalized has been re-opened, with the petition calling for the Government to "legalize same sex marriage and implement complete and full human rights for all Bermuda citizens and visitors."
The petition in support of same sex marriage was originally launched in April of this year by entertainer and tourism advocate Tony Brannon, and was open for a month before being presented to Minister of Community, Culture & Sports Patricia Gordon Pamplin in May 2015.
The website text for the petition opposing same sex marriage says it was "formed by a wide cross-section of citizens in Bermuda that desire to preserve marriage in our country", and the official Bermuda domain registrar website lists Cornerstone Bible Fellowship as the registrant for the domain the petition is hosted on.
7-minute video of the petition in support of same sex marriage being presented in May 2015:
Tony Brannon, who launched the petition, told Bernews: "We are not asking for any church to marry any same sex couple, we are asking that the Government of Bermuda legalize same sex marriage so that any same sex couple can be married in Bermuda be it on a pink beach, hotel, private home, cruise line or registry office.
"I respect the churches to decide who can or cannot get married in a church, however we are not asking for any church to marry a same sex couple – after all why would a same sex couple even want to get married in a place they are not welcome?
"If God is love, then God loves all. Only humans get in the way."
Mr Brannon continued, "I will also point again to the huge tourism benefits of same sex marriage. This island could easily see another $100 million annually in same sex marriage tourism benefiting hotels, weddings planners, entertainers, caterers, airlines, taxis, restaurants, sightseeing and more.
"I will remind everyone in Bermuda, who were ecstatic when President Barack Obama was made President of the USA, that the 1st Black President of the United States became a champion of human rights and indeed same sex marriage. Way to go Mr. President.
"Same sex marriage is a human right and it is the right thing to do," added Mr Brannon. "Bermuda is sadly behind the times on this issue.
"I urge the Government of Bermuda to do the right thing. I will also remind everyone, that separation of church and state is essential. We as a society accept everyone's right to worship the God of their choice.
Graphic associated with the petition: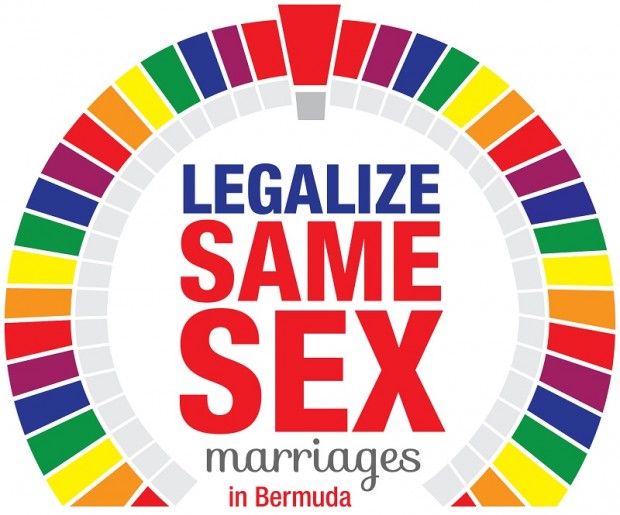 "It is the Government's duty to ensure that everyone has the same rights including same sex couples and that includes their right to get married in a place of their choosing," added Mr Brannon.
The petition calling for same sex marriage to be legalized can be found here.
The petition opposing same sex marriage is hosted on a website, not a dedicated petition website, and following our story on it a number of comments were left on Bernews with people complaining about the system and saying they signed the petition multiple times, and in response to queries about the petition system, a spokesperson from the group said, "It is secure and being closely monitored.
"We have had a few persons that have been placing curse words, obvious repeated sarcastic names and derogatory remarks in the fields. These persons should know that they can be identified by their IP Address and all identified records are deleted immediately and are not included in the total number of petition signatures. We would like to request that this practice discontinues to avoid further action.
"It is important to add that to disagree with same-sex marriage is not being hateful nor homophobic. It is simply our right to disagree in order to uphold the current definition of marriage in Bermuda."
Read More About