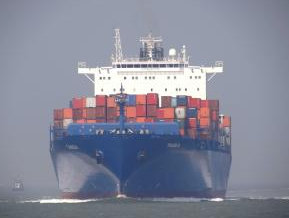 A 900-foot container ship en route to New York had to make an unexpected stop in Bermuda last week due to an injured crew member that required medical assistance.
A Bermuda Maritime Operations Centre spokesperson said, "On Tuesday, October 27, 2015 at 1.02am, RCC Bermuda was informed by the United States Coastguard District 5 in Norfolk, Virginia that the Portuguese registered vessel m/v Tabea, a 900 foot container ship, was located 86 miles west of Bermuda, en-route from Brazil to New York, and wished to divert to Bermuda to transfer ashore an injured crew member.
"The 48-year-old Philippine national was suffering from a deep facial wound and required medical attention. Plans were put in place to transfer the patient from the vessel to KEMH via the Pilot Boat St. David at the Deep Draught Position offshore from St Georges Harbour.
"The vessel arrived at the position at 6.30am, and a MEDICO transfer was made from the ship to the Pilot/Rescue Boat St David, where the injured crew member was then transferred to an awaiting ambulance at Ordnance Island."
Read More About
Category: All