[Updated] In what must have been a bittersweet victory for them, the French team defeated the USA 17- 5 to win the Plate Final at the World Rugby Classic this evening [Nov 14], with the match preceded by a minute of silence to show support for France.
The French team sang their National Anthem as the crowd looked on, and the match got underway with France taking the lead with a try from Benoit Marfaing and with the conversion missed the score remained 5 – 0.
The French and American teams: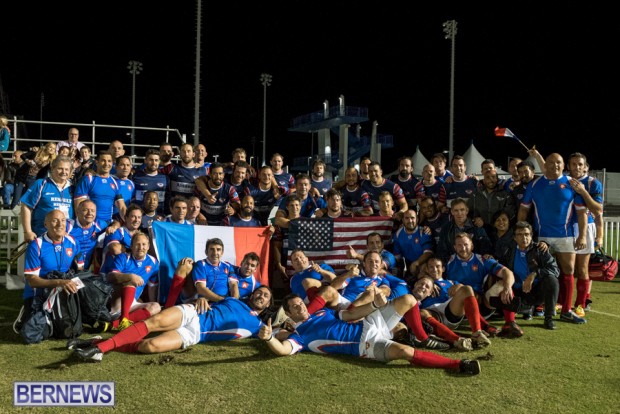 The USA drew level with a try from Taylor Howden, however France regained the lead in the second half when Marfaing went over, once again the conversion was missed making the score 10-5.
France's Jean Philippe Grandclaude went over for a try with 3:50 remaining making the score 15 – 5, and when Laurent Marticorena kicked the conversion it extended the lead to 17 – 5 to France, a score they would hold to the end.
The Plate Final was followed by the Classic Final which saw the Lions defeat New Zealand 22 – 5 at the National Sports Center.
Update: Slideshow with over 100 photos from the match:
-
The Classic concluded this evening after getting underway on Sunday [Nov 8] with teams from Argentina, France, Canada, South Africa, Italy, New Zealand, the UK and USA taking part in the week-long event.
This evening's game follows after yesterday's attacks in Paris which left over 100 people dead, and the nation in a state of shock.
"Authorities in France and Belgium took people into custody Saturday in the aftermath of the worst violence in France since World Word II, a series of terror attacks that killed more than 120 people," according to CNN.
"ISIS claimed responsibility for the horrific Paris attacks, for which France vowed revenge," with President Francois Hollande saying it was "an act of war," adding that "we will lead the fight, and we will be ruthless."
The French flag at half mast during the match: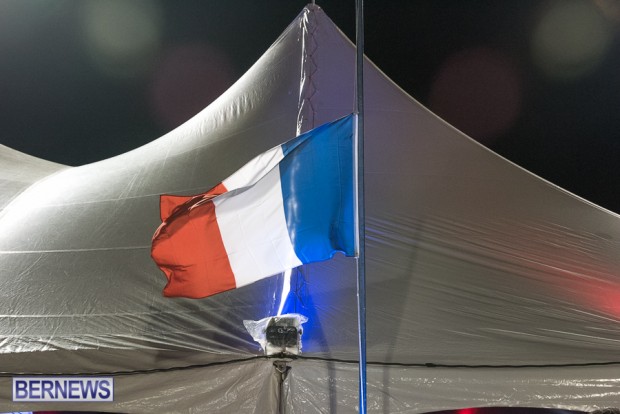 In the nearly simultaneous attacks on Friday night, the assailants targeted six sites, the deadliest being a massacre at a concert hall where at least 80 people were killed. In addition to the 129 people killed in Paris, 352 were injured, at least 99 seriously.
Premier Michael Dunkley said "that the people of Bermuda join with the rest of the global community in condemning this heinous terrorist attack," Governor George Fergusson expressed his "solidarity with the people of France and the French community and French visitors here in Bermuda," and the Progressive Labour Party said their "thoughts and prayers are with the people of Paris."
Update: Photos of the game, click to enlarge:

Read More About