The Association of Bermuda International Companies [ABIC] held its 12th Annual General Meeting yesterday [Nov 19], with ABIC Chairman Patrick Tannock calling for "continued collaboration between government, ABIC members, unions and other community stakeholders to ensure that Bermuda remains a leader in International Business."
Mr. Tannock stated, "These are tough times and we are all expected to do more with less. In addition to experiencing social and economic challenges, increased scrutiny and intense competition from other jurisdictions, Bermuda is facing unprecedented change and we are in unchartered territory."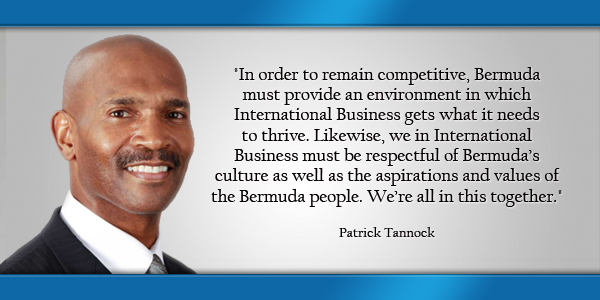 Noting that ABIC's mission is to promote a sound business environment in Bermuda for International Business and the Bermuda community and to advocate for balanced government policies that maintain Bermuda as a well-respected domicile of choice, Mr. Tannock said: "We need to ensure that Bermuda remains user-friendly, friction-free and solution-orientated. Our attitude and behaviors will set us apart from our competitors.
"That is why it is critical that everyone in Bermuda fully understands the value of International Business to the island's economy and the responsibility that each of us have for ensuring that we maintain that value. We cannot afford to be polarized on this issue.
"It must be clear that International Business is not the bad guy or the spoiled one that gets everything it wants. In order to remain competitive, Bermuda must provide an environment in which International Business gets what it needs to thrive.
"Likewise, we in International Business must be respectful of Bermuda's culture as well as the aspirations and values of the Bermuda people. We're all in this together."
Mr. Tannock continued, "We are proud of the ongoing efforts of our membership and key stakeholders in making progress on raising the awareness of the value of International Business and improving the dialogue.
"These include:
Executing on the ABIC Communication Plan for 2015 which involves meetings with key stakeholders such as political parties, unions and public schools.
Partnering with the Bermuda Business Development Agency in the launch of the Everybody's Business Campaign. Through live radio talk-show panel discussions, hosted by Cyril Whitter of the ABIC Executive, a range of topics have been explored including why International Business matters to everyone, International Business trends, threats and diversification, the Bermuda Economy, Bermudians in International Business, guest workers, careers in International Business and International Business synergies with Tourism.
Meeting with guidance counsellors and curriculum officers at the public senior schools to develop the economics curriculum, particularly students' understanding of the Bermuda economy, the value of international business and the challenges and the opportunities in the International Business sector. In addition, work is underway on developing a presentation on International Business for business studies classes.
Increasing Bermuda students' awareness of the careers in International Business.
As in previous years, ABIC continues to invest in education.
Through the ABIC Education Awards we are supporting 14 students with scholarships this year. Now in its 38th year, the ABIC Education Awards have supported more than 540 students. Former recipients of these awards have subsequently gone on to make significant contributions to the island's business sector.
As the founding sponsor of Bermudascholarships.com, Bermuda's one stop scholarship website for students and donors, ABIC this year took on fiduciary responsibility for the website. We are pleased to report that the website rebuild has commenced and funds have been raised thanks to our partnership on this initiative with the Bank of Bermuda Foundation, Ace, XL Catlin, the Ministry of Education, OIL, The Bermuda Foundation for Insurance Studies, Renaissance Re and Deloitte.
Mr. Tannock concluded, "I would like to thank members of the ABIC Board and every ABIC member for making 2015 a successful year.
"We will continue to keep our fingers on the pulse of our community and pursue every opportunity to collaborate with all stakeholders to ensure that Bermuda remains the business domicile of choice."
Read More About