The Bermuda Police Service have responded to the Morgan Road, Warwick area tonight [Dec 15] after what we understand to be reports of gunshots in the area.
Unofficial reports indicate that one person may have been injured. Further details are limited at this time, however we will update with additional information as able.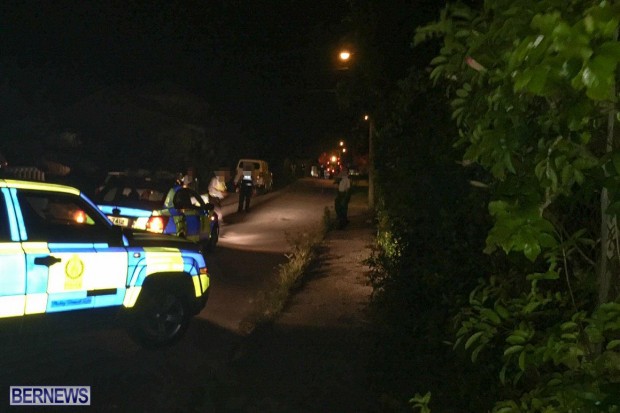 Update 9.53pm: The police confirm that it has been a shooting, and one man has been injured. We are expecting to receive a full police statement later, and will update as able.
Update 10.13pm: Audio statement from Police Media Manager Dwayne Caines added below
Update 10.13pm: Police Media Manager Dwayne Caines said: "A few minutes before 9.00pm this evening, police responded to an incident that took place on Morgan Road.
"It appears that six males between ages of sixteen and twenty were sitting on a wall in that area when two males on a motorcycle rode up and opened fire.
"As a result a sixteen year old young male was taken to King Edward Memorial Hospital where he has been treated for gun shot wounds to the leg. At this point the injuries do not appear to be life-threatening.
Police are in the area canvassing the relevant neighbors and they're looking for anyone who may have any information to simply contact police on 295-0011."
Update Dec 16, 1.08pm: A police spokesperson said, "The male victim in the shooting yesterday on Morgan Road is 17 years of age and not 16 as previously reported and presently he is resting on a general ward at KEMH. Police are still appealing for witnesses or anyone with any information to contact police on 2950011 or the confidential Crimestoppers hotline on 800-8477."
Read More About