[Opinion column written by Diallo Rabain, the PLP candidate for C#13 by-election]
While some claim the economy is in recovery, for far too many, this recovery has not led to new jobs or new opportunities to earn a living, make ends meet and feed their families.
Out on the doorsteps of Constituency 13, the real stories of the real people impacted by the OBA's real failure to keep their promise to create 2000 jobs are heartbreaking.
One woman we met has been unemployed for three years and been forced to go on Financial Assistance. During her time on FA she hasn't stood idle. Instead, she has taken every opportunity to retool her skills via the courses recommended by Workforce Development and earned numerous certificates to demonstrate her successful completion of those courses.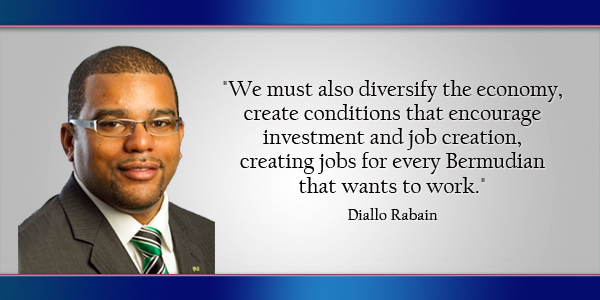 To keep busy, she volunteers with the Mirrors Programme and has tried to earn a few extra dollars by sewing. Last month through hard work, she managed to earn an extra $250 through her sewing ability. She, of course reported this income to Financial Assistance. As a reward for her honesty, her BELCO subsidy was slashed and no money was placed on her food card.
Like so many Bermudians, my constituent wants to work. She wants to pay her own way and she doesn't want to be a burden on the taxpayer. She has been honest, played by the rules and sought to improve her condition through hard work. Yet she is still unable to get ahead.
This case and others my PLP colleagues and I have come across while canvassing, reinforces the need for comprehensive Financial Assistance Reform. A Financial Assistance programme designed for a Bermuda of the past, with over-employment and a booming economy, does not reflect today's reality and the needs of today's Bermuda. Financial Assistance, like all government programmes, must adapt to the times in order to maintain effectiveness.
We further believe that we must eliminate government red tape, further enabling people like my constituent to start their own businesses, employ themselves and with hard work and sacrifice, employ others.
We must also diversify the economy, create conditions that encourage investment and job creation, creating jobs for every Bermudian that wants to work
It is stories like the one shared by my constituent, strengthen our commitment to building a Bermuda that works for Bermudians; a Bermuda of fairness, opportunity and hope for everyone and where the only limits are the ones we place on ourselves.
- Diallo Rabain

20 Most Recent Opinion Columns

Opinion columns reflect the views of the writer, and not those of Bernews Ltd. To submit an Opinion Column/Letter to the Editor, please email info@bernews.com. Bernews welcomes submissions, and while there are no length restrictions, all columns must be signed by the writer's real name.
-
Read More About