Local advocacy group 'Punish The Deed Not The Breed' is again calling for a change to Bermuda's dog policy, following a call to boycott Bermuda made on social media by the California-based Bad Rap group, which said "until you move forward with ending your breed ban, we fully support a boycott of Bermuda and its businesses."
A statement from the local group said, "Bad Rap, a California based organization that had been working to rescue Bermudian dogs threatened with execution by our current breed­specific legislation, announced on Tuesday [February 23rd] that they are calling for a boycott of Bermuda as a tourism destination. In a statement on their Facebook page they said:
Dear Bermuda,

Sixteen weeks ago, your government took this dog away from his family and their children, claiming he was not fit to be their companion ­ all based on nothing but a misguided and outdated belief that a dog's behaviour can be predetermined by his appearance.

His owner ­Miss Salintae Tuzo ­Smith ­ fought hard for his life and he came to our corners in Oakland, CA as a political refugee. 'Dayo' won our hearts and just this past weekend, he went home with a young couple to start his life again.

Since we accepted him, several more dogs just like Dayo have been seized and destroyed on your island and a small handful of others were lucky enough to survive by being exported to the states.

Our taking your dogs was supposed to be a stop gap solution while your Ministry of Health, Seniors and Environment began looking into "a sustainable long­term solution." "We ask that you remind your government and the Bermuda SPCA that the time for ending the cruel and inhumane practice of killing family pets is now.

There are numerous responsible ownership laws on the books in our country that you can draw from and willing dog experts [see National Canine Research Council] who can guide you in your search for humane, progressive policy."

Until you move forward with ending your breed ban, we fully support a boycott of Bermuda and its businesses. We look forward to the day when this dark history is a part of the past, and we can be proud to promote your beautiful island as a friend to companion animals and the families who love them.
"This post by Bad Rap has been shared [at the time of writing] over 600 times and received over 2,700 'likes'. Additionally, the post has over 80 comments supporting the call for a boycott," the local advocacy group added.
"While Punish the Deed Not the Breed does not support the call for a boycott of Bermuda, we are sympathetic with the frustrations expressed by Bad Rap.
"Similarly, Punish the Deed Not the Breed shares the sentiments of the American Veterinary Society of Animal Behaviour [AVSAB] that breedspecific legislation [BSL] is 'ineffective, and can lead to a false sense of community safety, as well as welfare concerns for dogs identified [often incorrectly] as belonging to specific breeds'.
"We also share the AVSAB's position that 'matching pet dogs to appropriate households, adequate early socialisation and appropriate training, and owner and community education are most effective in preventing dog bites'.
Screenshot of the social media post calling for a boycott of Bermuda: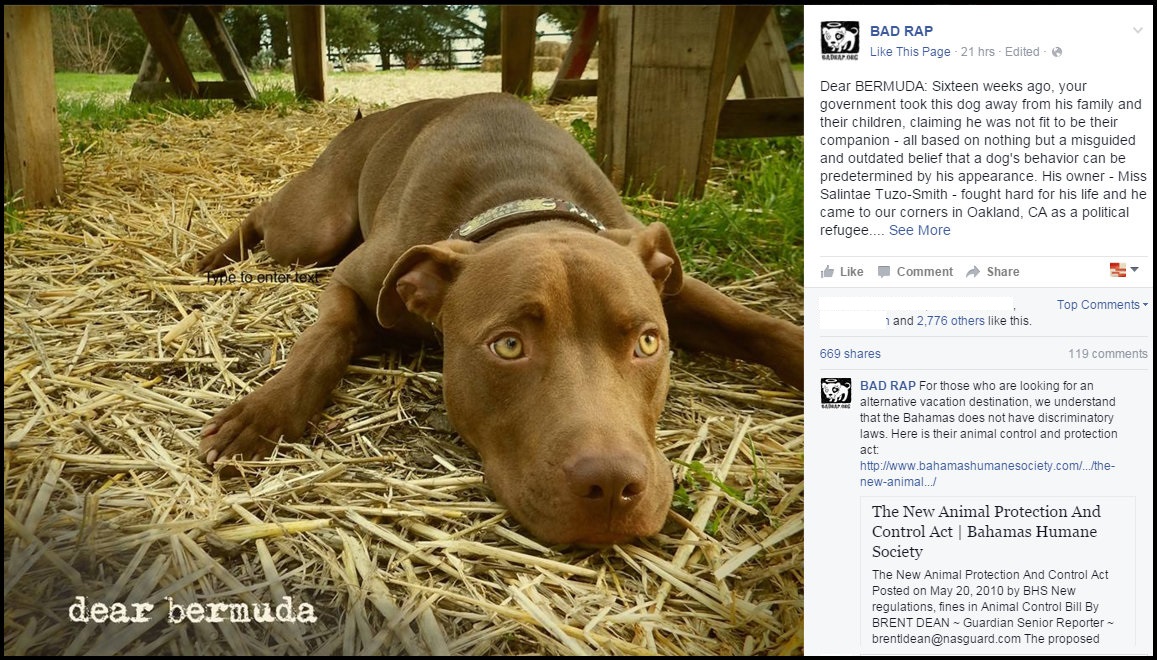 "Punish the Deed Not the Breed also agrees with the American Kennel Club's [AKC] statements that: Like racial profiling for dogs, BSL unfairly punishes responsible dog owners without holding owners of truly dangerous dogs accountable."
"Banning a specific breed punishes responsible dog owners who have welltrained dogs of that breed, while irresponsible owners who want a 'dangerous dog' as a status symbol will simply choose another breed.
"Some communities have attempted to define a dangerous dog as any dog that has certain physical characteristics. This forces local officials to focus more on a dog's appearance than its behaviour – and often results in incorrect identification.
"Punish the Deed Not the Breed also recognises the position of the American Bar Association [ABA], which passed a resolution in 2012 urging 'all state, territorial, and local legislative bodies and governmental agencies […] to repeal breed discriminatory or breed specific provisions'.
"The ABA simultaneously issued a comprehensive report detailing the many problems it identified with breed­specific legislation, notably significant questions of due process, waste of government resources, documented failure to produce safer communities, enforcement issues connected with identifying the dogs to be regulated or seized and infringement of property rights.
"Breed­specific legislation doesn't work. If anything it compounds the problem by [i] enhancing the 'status' appeal of banned breeds amongst criminal elements; [ii] drives the breeding and sale of such breeds underground, involving cruelty and inbreeding; [iii] hinders adequate veterinary care for such breeds; and [iv] hinders adequate socialisation of such dogs. All of these [and more] actually increase the potential for dangerous dogs.
"Punish the Deed Not the Breed is calling for comprehensive reform of our dog legislation to put the emphasis on owner­responsibility and on dog behaviour rather than the superficial appearance of dogs, including an objective and fair process by which a dog is deemed 'dangerous'.
"Such a law reform should also impose appropriate penalties on irresponsible owners and place an emphasis on proper training, care and socialisation of all dogs. Critical to a humane approach to dog ownership is a focus on public education efforts, as this addresses the root issue of irresponsible dog ownership.
"Breed­specific legislation is not the solution to dangerous dogs. It's part of the problem. Punish the Deed Not the Breed has proposed comprehensive legislative reform and call for an immediate amnesty for 'banned' dog breeds until such reform is completed.
"We do not support this boycott of Bermuda, but we are aware that until the counter­productive breed­specific legislation that we currently have is repealed, this boycott call is likely only the beginning of a bad rap for Bermuda
"It's time for change. It's time to punish the deed, not the breed."

Read More About