[Written by Kristen White]
I moved to St. George's in 2003, having lived in Spanish Point my whole life and traveling to the East End of the island for the odd 'tourist for a day' excursion. Moving here was quite a change – the commute, the generations of people who were so connected to each other and this place, the little village of shops and restaurants.
It took me a while to adjust – I'd fall asleep on the ride to and from Hamilton every day! But then my son started playing football and cricket with the St. George's Cricket Club, and I felt part of a community in a way I'd never experienced before.
Once I started exploring the quaint streets and off the beaten path beaches, and spending more time in that little village, I fell in love. Now, 13 years later, I've seen many sides of Olde Saint George – the square full of dancing visitors with a cruise shipped parked alongside and windows boarded up as stores close – and am still smitten.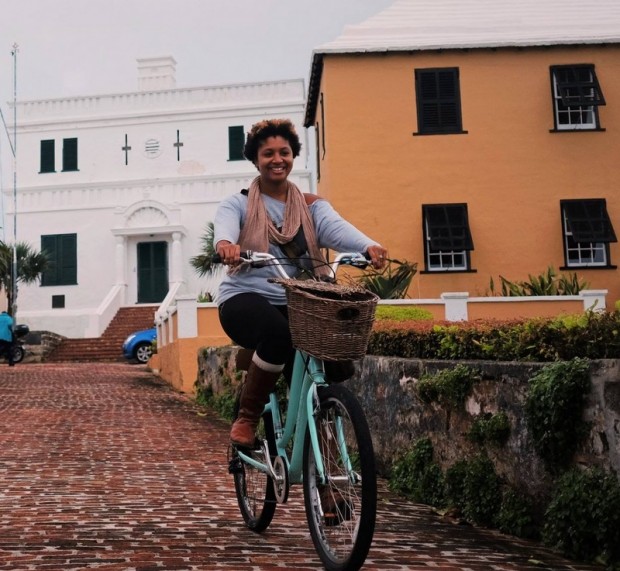 In those 13 years, I've gotten married in the middle of town, bought a bookstore [also in the middle of town], started a ghost tour [you know where] and generally become more and more obsessed with Saint George. [I even wrote a poem about him… #stalker.]
Some say that George's best days are behind him, when we had cruise ships. Or even further back when Club Med or Holiday Inn was open and catering to the rich and famous. And if you visit St. George's or St. David's on a weekday this month or next, you might be forgiven for using the term 'ghost town'.
But [she said optimistically] WE HAVE A PLAN!
The 2012 National Tourism Plan broke the island into 5 geographical hubs, each with a unique brand and theme ad, fittingly, the area where Bermuda began, St. George's and St. David's, has been designated as Hub 1. The point of the 'hubs' is so that those of us who work in the tourism sector better understand Bermuda's offerings, and the special marketing position of each region.
For the east end, our unique brand is our history. I know, I know… you've heard all that before. BUT, it's true that so many visitors come and don't know that, along with the forts, The Town of St. George's is a UNESCO World Heritage Site and why. They don't know about the international role the town played throughout the 17th, 18th,, and 19th centuries. Or that St. David's has a Native American connection and is one of Bermuda's oldest communities.
And beyond the history, architecture, forts and museums, the East End has some of the most beautiful beaches, unique shopping, and best food on the island.
So… how can we have all that, and not be overrun with visitors? Obviously, not having a hotel and cruise ship impacts our tourism stats, but can we not improve and promote our product so effectively that every visitor has a trip to St. George's on their itinerary? What must we do to encourage travelers to choose an East End hotel or vacation rental to better experience all we have to offer?
A group of East End stakeholders representing culture, business, residents and leadership came together in Fall 2014 to look at the National Tourism Plan, explore these questions, and develop a strategy specifically for Hub 1. At the end of this process, which was facilitated by an independent moderator and sponsored by the Bermuda Tourism Authority, we collectively agreed on a mission:
Embracing all stakeholders of Hub 1, we will help to develop a vibrant East End community and economy by providing authentic, world-class, cultural experiences for all.
How?
We had four objectives.
Manage, Maintain and Leverage Our Assets and Resources
Our assets and resources include everything from our UNESCO status, to our forts, to our volunteers and residents. How can we take everything we already have and maximize it?
Increase Awareness and Appreciation of Hub 1.
We must make sure that EVERYONE, visitors and residents, know what we have to offer in the East End. And we must measure trends, track feedback, and monitor statistics to steadily improve.
Provide Seamless Cultural Experiences
We know that many who ventured to the East End have ended up disappointed. Shops and museums – closed. The transport to move you to and around the parish – limited. Signage to provide direction and historic information – practically non-existent. And, what experiences are offered that differentiate the East End from any other part of the island? All of this must be addressed.
Develop a Governance Structure
A management body called the Hub 1 Steering Committee was formed, with one representative each from The Corporation of St. George's, Bermuda Land Development Corporation, World Heritage Site Management Committee, East End Division of the Bermuda Chamber of Commerce, Bermuda Economic Development Corporation and Bermuda Tourism Authority. This group, after seeking proposals, recently hired a Cultural Tourism Manager to implement the Hub 1 Cultural Tourism Plan.
That's me!
After starting in January, I reached out to Bernews, asking if I could write a regular article to keep residents in the loop and get feedback [no yelling please]. And so now, after that super-long introduction, here we are. A few times a month, I'll provide you with an update on the Hub 1 project, and encourage you to visit us for all of the cultural events, business offerings and promotional initiatives we have going on, plus pass the information on.
I figure if I can get you excited and talking about the East End, you who might be discouraged, jaded, and generally disappointed in St. George's tourism product – then convincing visitors should be easy.
- Kristen White

Read More About