[Written by 12-year-old Eliza Olander…with a little help from Uncle Tony]
Background:
A special guest at the Eliza Doolittle Society's Soup-a-Bowl fundraiser at the Hamilton Princess was aptly named Eliza Olander, the Junior Restaurant Critic for Bernews.
Eliza, 12, is a student at The Centre for Creative Learning in Hamilton and lives in St David's. She took her Uncle Tony along to Monday's event, which featured a champagne reception, a soup challenge, silent and live auctions, a balloon raffle plus a buffet dinner and live music.
Chefs who made special soups for the occasion included reigning champion Dick Reno [Smokin' Barrel], Mohan Kuppuswamy [Hamilton Princess], Parkash Sugara [Glaze Bakery Cafe], Otto Kummer [private chef], Chad Mitchell [Red Steakhouse & Bar], Doug Sisk [The Reefs], Karsten Krivenko [Tribe Road Kitchen], Chris La Place [Tempest Bistro], Josue Lemus & Jason Berwick [Buzz Cafe], and four chefs from Bermuda College — Lianne McKeowen, O'Keisha Clarke, Cemeron Forbes and Deshi Smith.
Gifts donated for the silent auction ranged from paintings, jewellery and rounds of golf to dinner packages, hotel stays and guided tours.
Some 220 guests helped the The Eliza Dolittle Society raise more than $40,000 at the Soup-a-Bowl.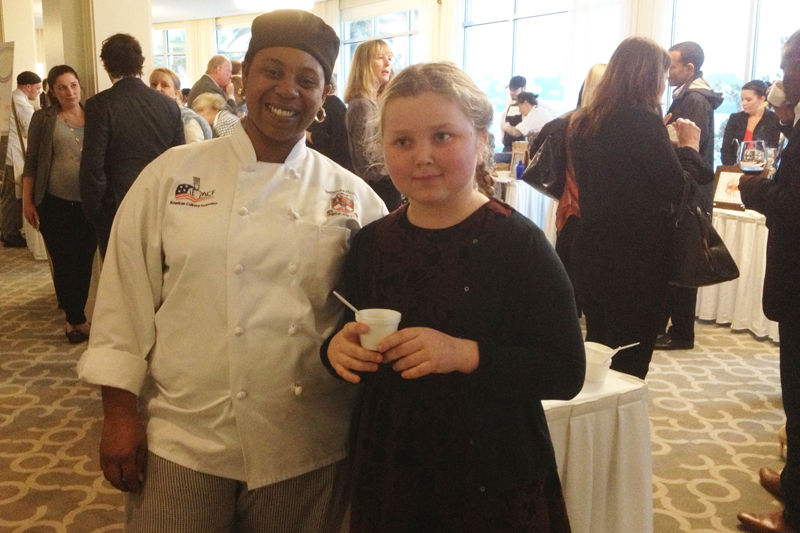 Atmosphere:
It's very busy and happy — there are so many people here!
I like the live music. It's so good to hear a grand piano.
They have a photo booth, which is fun. They took pictures and printed them out for us and also sent them to us by email. It was very cool.
The soups:
Bermuda lobster & potato with truffle essence, by Chad Mitchell, Red Steakhouse & Bar
It's warm and creamy and has little pieces of lobster in it. I'm glad I started with this soup, it's delicious.
They serve it with small pieces of corn bread, which is a great idea.
Shrimp & shitake ramen noodle soup by Dick Reno, Smokin' Barrel
It's really lovely. The mushroom is nice and juicy and the shrimp is tasty.
And there's a lot of flavour in the noodles.
There is a line [of people at the stall] and everyone seems to like this soup.
Ying yang chowder, by Julianna D'Estelle Roe, Hamilton Princess
It's a mix of fish chowder and clam chowder.
This soup is really good and there are little pieces of bacon on top.
It's a little spicy and the lady served it on an oyster shell. I like it!
Green split pea puree with crumbled homemade sausage, by O'Keisha Clarke, Bermuda College
This soup is nice and light. Sometimes spilt pea soup is grainy but this is smooth.
The sausage is lovely — I could eat a bowl of it!
It was fun trying so many soups!
I liked Smokin' Barrel the best.
[Soup-a-Bowl guests voted for their favourite soups by casting ballots and the winners were:
Taste:
Chris La Placa from Tempest Bistro in St. George's, with his chicken chowder
Table Presentation:
Juliana D'Estelle-Roe, Hamilton Princess, with her nautical-themed table display, including oyster shells for soup tasting
Aspiring Student:
Deshi Smith, Bermuda College, with his tomato banana soup]
Buffet dinner:
I had macaroni and cheese with salad — it was yummy but I couldn't finish it because I'd had so much soup!
Overall experience:
I loved it!
It was fun trying so many soups and was so was nice to meet so many different chefs and to try new things.
I told them that I like cooking, too, and they explained to me all the ingredients they used for their soups. They were very friendly.
I also spoke to the Governor, who is always very kind. I have met him before and it's nice that he always remembers my name.
My friend Elaine [Murray] bought me a balloon that came with a prize, [an Animal & Garden gift certificate] which was so kind of her. You are supposed to burst the balloon with a corkscrew but I jumped on mine.
It was fun walking around all the soup stalls with her.
I had a great time!
The Eliza Doolittle Society, a registered charity founded in 2002, fights hunger and poverty by distributing food to people across the island. Its 15 feeding venues, most of them located in churches and community centres, collectively serve more than 1,000 meals a week. For more information, contact teds.director@gmail.com or 441-333-4483.

Read More About
Category: All, Entertainment, News